Century Business Solutions has developed an integration that works seamlessly with AbleCommerce's online shopping cart solution. AbleCommerce is a complete ecommerce software program that allows merchants to sell shippable or digital goods on the internet. Using your browser, you can securely connect and manage your store, customers, and orders from anywhere in the world. This is a full Asp.Net application that installs easily to any capable website.
Century Business Solutions has chosen to link their name with AbleCommerce due to their impeccable 16-year tenure in the online shopping industry. Their experience, solutions, and superb customer service has made them a top-five player in their competitive market. Thier development team is always looking forward to future technologies so AbleCommerce software will always meet, or exceed the highest standards for online ecommerce.
Century Business Solutions' integration with AbleCommerce is unlike any other because we have developed a way to pass more information through the point of sale to qualify cards at the lowest possible interchange rates. That's right, we can get you Level 3 rates! Century Business Solutions was one of the pioneers in implementing this low-cost solution with their products. We have saved companies astronomical amounts of money on their monthly processing with this enhanced technology.
Take a look at a few of these features that you can benefit from with Century Business Solutions and the AbleCommerce shopping cart system:
AbleCommerce is Visa certified and Secure
The fact is, all shopping cart applications must be certified in order for their customers to comply with the mandated Payment Card Industry Data Security Standard (PCI DSS). PA-DSS is the Council-managed program formerly under the supervision of the Visa Inc. program known as the Payment Application Best Practices (PABP).

AbleCommerce software was officially PCI certified under the new, and stricter, PA-DSS v1.2 standards on June 1st 2009. AbleCommerce was one of the first shopping cart software products to be certified under the new PA-DSS certification process. PA-DSS certification requires exhaustive forensics analysis by an independent certified testing agency. Be careful of other solutions that claim they are 'compliant' – it is not the same. Visa.com maintains a list of PABP Validated Payment Applications on their website.
In July of 2012 AbleCommerce was revalidated by the PCI Security Standards Council. We are always working to keep AbleCommerce safe and secure.
Award Winning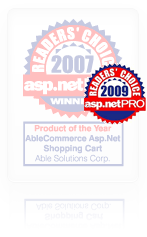 AbleCommerce's reputation as a distinguished software development company goes as far back as the late 1990's when they went head to head against IBM and Microsoft Commerce Server. Since then, they have won many prestigious awards such as Best Ebusiness Software winner in the 2001 Reader's Choice Awards. Best Ecommerce Package and Product of the Year, winner of two Reader's Choice awards in 2007, and their latest award for Best Ecommerce Package, winner of the 2009 asp.netPRO Readers' Choice Award.
Powerful, yet easy to use and deploy
Their easy-to-use shopping cart solution is uniquely suited for merchants that have outgrown existing systems. The software program can be installed through standard FTP upload to most hosting services that support Asp.Net applications. You can install to your own server, or use the AbleCommerce hosting service and they'll install it for you. AbleCommerce offers the highest product quality and most features for the dollar.
Lower cost of ownership
If you are looking for a tool that is economical, powerful enough to handle all the levels and options you want to offer in a store, AbleCommerce gives you the confidence of compatibility, upgradeable, feature rich, and fully customizable, then you're looking to become an AbleCommerce Merchant!
There are no hidden fees. This is a complete ecommerce package with everything you need to sell. Software and a license for a single domain name is $1295. They include 30 days of free support!