Project Description
Payment Processing for transportation industry
Century's credit card processing gives operators an easy way to accept credit card payments–without having to apply payments to reservations.
Being in the livery industry for over eight years has afforded us the opportunity to become one of the NLA's preferred processors and form some fantastic partnerships. Now, with special integrations to reservation systems like FASTTRAK Cloud, Hudson Group, LMS, Livery Coach, and Limo Anywhere, we're excited to say we can not only reduce your monthly processing costs with level 3 pricing, but integrate your credit card payments with the system of your choice, saving you valuable time every single day.
Below is a list of some of our integrations: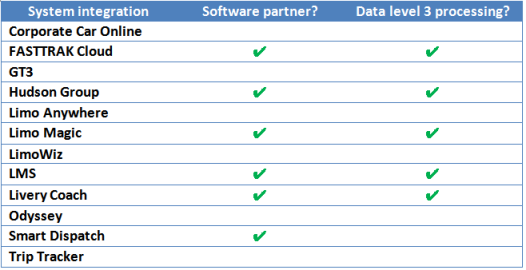 Benefits of Century's Credit Card Processing:
Century Business Solutions provides operators with a simple way to handle payment processing and these exclusive benefits:
A proactive chargeback management team whose mission is to help you implement preventative measures to reduce chargebacks and resolve payment issues.
Level III processing for maximum savings.
NO long term contacts.
NO hidden or miscellaneous fees.
On-premise IT support to ensure PCI compliance.
With integrations to so many different reservation systems, we're sure to have a processing solution that fits your business. Give us a call at (888) 500-7798 and we'll talk to you about how much you can save.