[fusion_builder_container hundred_percent="no" hundred_percent_height="no" hundred_percent_height_scroll="no" hundred_percent_height_center_content="yes" equal_height_columns="no" menu_anchor="" hide_on_mobile="small-visibility,medium-visibility,large-visibility" class="" id="" background_color="" background_image="" background_position="center center" background_repeat="no-repeat" fade="no" background_parallax="none" enable_mobile="no" parallax_speed="0.3″ video_mp4="" video_webm="" video_ogv="" video_url="" video_aspect_ratio="16:9″ video_loop="yes" video_mute="yes" video_preview_image="" border_size="" border_color="" border_style="solid" margin_top="" margin_bottom="" padding_top="" padding_right="" padding_bottom="" padding_left=""][fusion_builder_row][fusion_builder_column type="1_1″ layout="1_1″ spacing="" center_content="no" link="" target="_self" min_height="" hide_on_mobile="small-visibility,medium-visibility,large-visibility" class="" id="" background_color="" background_image="" background_position="left top" background_repeat="no-repeat" hover_type="none" border_size="0″ border_color="" border_style="solid" border_position="all" padding="" dimension_margin="" animation_type="" animation_direction="left" animation_speed="0.3″ animation_offset="" last="no"][fusion_text]
In 2004, our founder set out to create a new kind of credit card processing company—one built on the principle of win-win business relationships. We understand that we profit when our clients profit.
A few years down the road, we noticed that all our B2B clients shared the same problem. There was a gap of inefficiency that existed between credit card acceptance and accounting, and as a result the process of accepting payments was redundant and expensive.
We hired a team of software developers to bridge that inefficiency. Together, we created a software integration that would allow our customers to accept credit cards directly in their accounting software. We named the solution EBizCharge.
We uncovered a lot of inefficiencies in the process of accepting payments, so we continued to develop solutions that would fill in those gaps. The result was a full line of EBizCharge products that empowered our clients to process payments faster while saving money on processing costs.
Over the years we specialized into an extremely unique payment processor—a credit card processor and a software developer. We learned that it was important to attract clients that wanted both those sides of us, which allowed us to maximize the value we provided to them.
[/fusion_text][fusion_title margin_top="" margin_bottom="" hide_on_mobile="small-visibility,medium-visibility,large-visibility" class="" id="" size="1″ content_align="left" style_type="none" sep_color=""]
The Dawn of a New Brand
[/fusion_title][fusion_text]
In 2018, we initiated the process of rebranding EBizCharge. We wanted to establish a clear brand voice that would better communicate the value of our products to potential customers. We also wanted to make room for more authentic interactions with our current customers.
We rolled up our sleeves and began examining our brand from every angle. How could we communicate a streamlined payment flow as clearly as possible? How could we better understand and address our customers' pain points? We worked at simplifying our message and cutting out the credit card processing jargon when it wasn't helpful.
We also scratched our heads at the task of creating a logo that would symbolize the nature of what we do. If there was a universal symbol for integrated credit card processing, we certainly hadn't come across it yet!
We pushed through a slew of logo ideas, ranging from the literal to the totally abstract. Ultimately, we landed on the design of the EBizCharge current.
At its root, the word "current" refers to the state of flowing. We use it to describe water, electricity, time, and anything that moves forward in a similarly fluid way. We even use it to define money—currency refers to the "state or fact of flowing from person to person."
In its essence, EBizCharge is a tool that better directs the flow of payments, generating more time and cost savings for its users. EBizCharge isn't disruptive or extreme in nature. It works with existing payment and accounting systems to lend greater ease to the process.
The logo evokes the fluidity of water and the power of electricity, speaking to both the adaptability of our integrations and the nature of the electronic payments that we handle. The rest of the new brand identity, including the wordmark, typography, and color palette, are designed to facilitate clear and friendly communication and convey the reliability of the EBizCharge product line.
The EBizCharge brand will continue to evolve alongside its products, and we're looking forward to seeing where it takes us!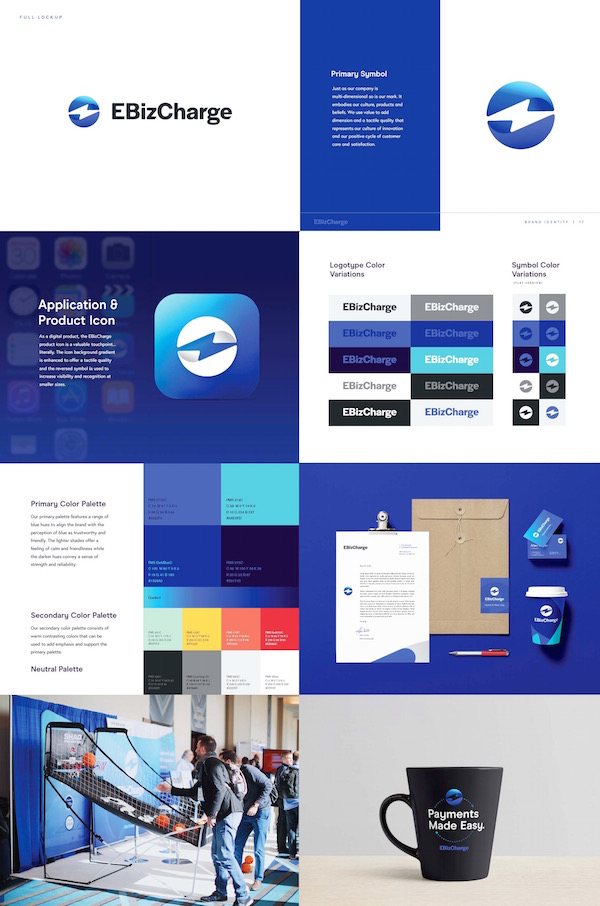 [/fusion_text][/fusion_builder_column][/fusion_builder_row][/fusion_builder_container]