Credit Card Tokenization
By default, processing electronic payments has always exposed a business to strict PCI DDS regulations. Compromised data has increasingly resulted in substantial monetary losses, harsh penalties and fines, and tarnished the reputation of many respectable companies. Generally, PCI compliance standards provide the payment industry, with a set of specific guidelines to assist merchants, processors, and banks understand and execute secure transmission of credit card information during each transaction.
Encryption is a widely used technology designed to reduce a merchant' PCI scope, by encoding credit card details during the transaction (data-in-transit) process. However, since encrypted data can often be reversed with the use of obtainable encryption keys, this method is considered more much vulnerable than tokenization.
What can a tokenized payment gateway do for you?
Payment gateway solutions are designed to facilitate the safe transmission of credit card data, to and from acquiring banks. As such, encryption technology vastly enhances the security level during the process. With companies increasingly using online billing systems to process recurring transactions, data encryption alone does not provide sufficient protection for data-at-rest. This is where credit card tokenization can play a major role in security enhancement: The 16 digit card number is instantaneously substituted with a unique token, which can be utilized to finalize the transaction, and serve as currency for future payments.
A tokenized payment gateway can completely eliminate the need to save any sensitive customer card information on businesses' local server(s), and further reduce a merchant's fraud liability. Tokenization, in its own right, eliminates half of the mandated security requirements set by PCI DDS. Additionally, in the event of a data breach, hackers are unable to obtain anything beyond unusable tokens.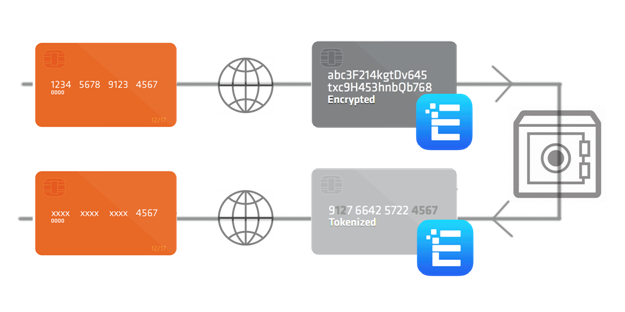 Why EBizCharge payment gateway?
• Equipped with data encryption and tokenization technology.
• Integrates with ERP/Accounting/Billing systems.
• Compatible with online shopping carts.
• Obtains the lowest base costs on all card types, including Amex.
• Provides custom reporting tools and unlimited batch history.
Why Century Business Solutions?
As a processor with more than a decade experience serving over 6,000 business across the U.S. and Canada, we are able to provide businesses with:
• Competitive processing rates.
• Flat rate pricing options.
• Next day funding options.
• 24/7 in-house support.
Getting started:
Request a demo of our EBizCharge payment gateway today, and let us show you how Century Business Solutions can further enhance the security of your customer's sensitive information, help reduce your business liability, and protect your company's reputation.