by Marketing Department October 27, 2013
Last Updated: November 5, 2020
If you run a business and want to be able to accept credit card payments, then you need merchant services. Several banks offer accounts, but terms and conditions, as well as requirements to open an account may vary. Although at first thought you might think to go to a bank for merchant services, understand that generally speaking they have higher rates and fees, required contracts, and expensive or little customer support. It's critical to ensure you completely understand what is being offered before you sign on the dotted line.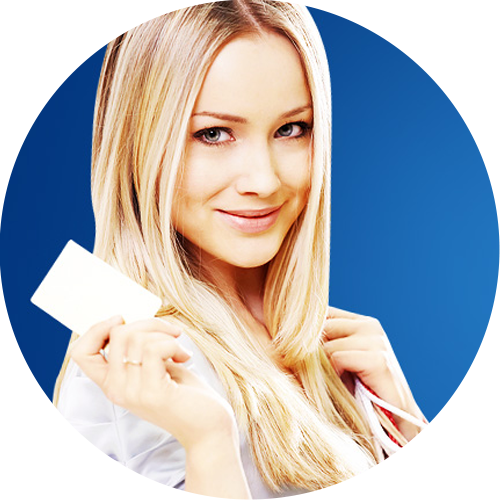 Merchant Services Providers do Visa, MasterCard, and Discover's legwork.
These three card issuers, with the addition of American Express, supply the overwhelming majority of credit cards in the US and Canada.  A merchant services provider acts as a liaison between merchants and card-issuers, using a network to process, oversee, and keep records of payments.
Merchant Services Features
Merchant services handle the electronic processing of payments for you, as a merchant. They'll take the information from the transaction you processed online or in store, collect the money from the bank, and send the payment to you.
These services will also notify you if the payment account does not have sufficient funds to cover the purchase. If a transaction is denied, you'll know not to: let the person leave the store with the goods, ship the goods, or provide the service you offer.
You'll pay a small fee, usually a percentage of the purchase amount and a flat rate per transaction, to cover the costs incurred by the payment provider for ensuring you receive your payments. The customer will not incur additional charges, but you can opt to charge a fee for the use of a credit or debit card if the transaction is under a certain amount to help offset your costs.
With merchant services, not only will you be able to accept credit and debt cards, you will also be able to process electronic checks, so those who carry a checkbook instead of cash will be able to write a check to your business, without you worrying about whether it will bounce, costing your business money.
Some services will allow you to accept gift card payments, payments by phone, and even payments by text message. The options available to your business will depend on whether or not you'll have physical access to the card, and what the merchant service provider offers.
Merchant Services Benefits
The biggest benefit of having merchant services is that it will allow you to accept credit and debit card payments. In today's society, this is more important than ever, as the number of people who carry cash continues to dwindle.
You won't have the hassle of purchasing and maintaining the card reader and other equipment required to process payments, because the merchant services provider will take care of all of that for you.
Most service providers have built-in security protections, such as address verification, real-time processing, secure socket layer (SSL) technology to protect the financial data while in transmission, and CVV2 (they will verify the three digits on the back of the card) to help protect you against chargebacks. These additional measures are designed to ensure the person placing the order is authorized to use the card.
This protects you as the business, and the consumer. When the consumer knows their financial data is safe with you, they are more likely to make a purchase from you. If they have any doubt about the security of their information, they are more likely to purchase from a competitor, simply because they want to avoid the risk of identity theft. As a business, you run the risk for chargebacks, or transaction reversals, because of card theft. With these security measures in place, and an ID check at the time of purchase, if possible, you'll protect yourself and the consumer.
If you're a small business, such as a food truck, you don't need a credit card terminal that stays at the office. You'll need a mobile terminal that goes with you, where you go. Many payment processors are now offering card-swiping devices that attach to your smartphone via its auxiliary jack or charging port. You take the card, swipe it on the phone's card reader, and then pass your phone to the customer to sign to authorize the transaction. The customer signs using either a stylus or his or her finger, and you both go on your way.
Merchant Services Providers offer support when you have a question or problem with your account
Even as technology tends to automate and streamline parts of our lives, it also raises questions, and, like anything else, not everything works properly all the time. Your merchant services provider probably has a support team to help with software issues or just general processing questions. Support can be used and charged on a per-appointment basis, like a trip to the doctor's office, but some MSPs (like Century Business Solutions, for example) offer their support for free. For general pricing concerns, you'll probably have an account manager, someone who oversees your account's pricing and keeps you informed of any updates, security concerns, and the like.
Do you need merchant services?
Do you want to accept credit cards, checks, wire transfers, etc.?

Do you sell physical products in a store and have face-to-face interactions with your customers?

Do you sell online?

Does your business move around?

Do you want to accept gift cards?

Do you want to accept payments by phone?

Do you want to accept payments by text message?
If you answer yes to any of the questions above, then you are definitely in need of a merchant services provider!
Plans are available to suit every business size. Whether you're a sole proprietor providing a service online to a small customer base, or you're a multi-million dollar corporation running several brick-and-mortar stores alongside an e-commerce division, you will be able to find a merchant services plan that works well for you and your business.
Subscribe for more content like this
Get the latest updates and trends in the world of business.
Share