Microsoft Dynamics CRM Payment Processing
eBizCharge for Dynamics CRM is a PCI compliant payment processing solution which allows users to accept electronic payments directly within the Dynamics CRM. This payment processing module is fully integrated, so users do not need to leave the CRM screen in order to accept, pre-authorize, or run transactions. Managing recurring payments can also be easily handled with eBizCharge for Dynamics CRM, and users can run full or partial payments by accepting any credit cards, debit cards, and eChecks.
Benefits of the eBizCharge for Dynamics CRM payment processing solution:
Run sales, transactions, preauthorize, and manage customers payment information all inside the Dynamics CRM
Credit cards, debit cards, and eChecks/ACH processing enabled
Run full or partial payments
Eliminate risk by securely storing customers card information offsite (our virtual vaults, never your systems)
Limit users' access levels with ease
Reduce processing time by eliminating double data entry
Integrate the entire process with existing ERP/Billing/Accounting systems
Maximize transaction security by saving card information in "tokenized" format for future use
Features of the eBizCharge Payment Gateway:
PCI Compliant
Equipped with data encryption and tokenization technology for maximum data security
Seamless integration with Dynamics CRM and ERP/accounting solutions
Unlimited batch history
Customizable reporting tools
Fast and easy setup
Why Century Business Solutions?
No contracts
No software fees
No upgrade, no software maintenance fees
Complimentary 24/7 U.S. based customer support.
Free charge-back management services
Flat rate pricing options
Next day funding options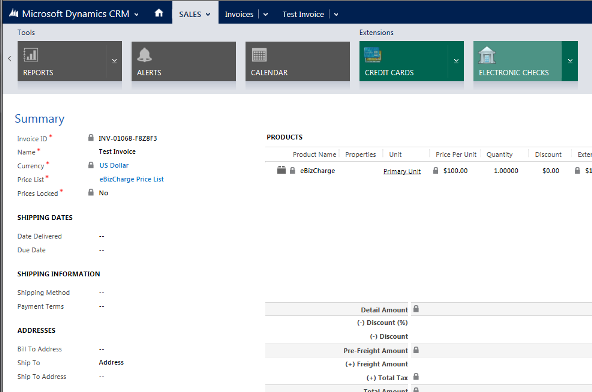 Getting started:
Request a free demo of our eBizCharge payment gateway today, and let us show you how Century Business Solutions can further enhance the security of your customer's sensitive information, help reduce your business liability, and protect your company's reputation.