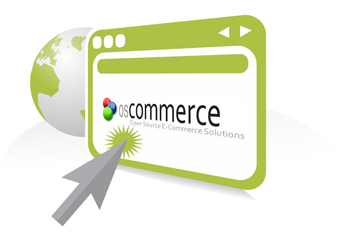 Century Business Solutions is proud to announce that we have developed an integration with osCommerce – one of the most advanced shopping carts on the market. We've come up with a way to pass the necessary information to qualify your cards at the lowest possible interchange rates. That's right, with Century Business Solutions' integration with osCommerce, you can get exclusive rates
Century Business Solutions has chosen to link their name with osCommerce due to their impeccable reputation over the past 12 years in the online shopping industry. Their experience, solutions, and superb customer service has made them a top-five player in their competitive market. Their development team is always looking forward to future technologies so osCommerce software will always meet, or exceed the highest standards for online eCommerce.
osCommerce provides the tools to set up your very own complete and self-hosted online store website for free to market and securely sell products and services to customers worldwide.
You have complete access to and total control of your online store and data.
Their growing community of over 260,000 store owners, developers, and service providers are there to help you at every stage of running your online store and business. Over 7,000 free Add-Ons have been uploaded by the community to use and customize your online store with.
Over the past 12 years, osCommerce has demonstrated a passion about what they do and love the personal relationship with their community.
osCommerce is commited to Open Source to foster a strong and growing worldwide community engaged in our achievements.
osCommerce and Century Business Solutions
In addition to their unrivaled shopping cart solutions, osCommerce's experience in the eCommerce industry provides them with an unmatched level of knowledge and support. Like Century Business Solutions, they know that every business needs to compete effectively online, so they make sure they are there for your business, every step of the way. We truly value their customer attention and reputation for customer retention. Everything they stand for falls in line with Cut Merchant Fees' mission statement.