[fusion_builder_container hundred_percent="no" equal_height_columns="no" menu_anchor="" hide_on_mobile="small-visibility,medium-visibility,large-visibility" class="" id="" background_color="" background_image="" background_position="center center" background_repeat="no-repeat" fade="no" background_parallax="none" parallax_speed="0.3″ video_mp4="" video_webm="" video_ogv="" video_url="" video_aspect_ratio="16:9″ video_loop="yes" video_mute="yes" overlay_color="" video_preview_image="" border_size="" border_color="" border_style="solid" padding_top="" padding_bottom="" padding_left="" padding_right=""][fusion_builder_row][fusion_builder_column type="1_1″ layout="1_1″ background_position="left top" background_color="" border_size="" border_color="" border_style="solid" border_position="all" spacing="yes" background_image="" background_repeat="no-repeat" padding="" margin_top="0px" margin_bottom="0px" class="" id="" animation_type="" animation_speed="0.3″ animation_direction="left" hide_on_mobile="small-visibility,medium-visibility,large-visibility" center_content="no" last="no" min_height="" hover_type="none" link=""][fusion_text]
Microsoft Dynamics GP Credit Card Processing
How would you like to simplify your reconciliation and payment procedures while adding the payment security your business needs?
Our proprietary gateway, eBizCharge, enables you to process payments inside your Microsoft Dynamics GP program without having to use a physical terminal.  The gateway is native to Microsoft Dynamics GP, so there's no side application or third-party popup.  eBizCharge utilizes tokenization, which ensures the highest level of data security, and also employs technology that obtains the lowest possible costs on business-type and government-type purchasing cards—without any extra work on your part.
eBizCharge for GP is a PCI compliant, integrated payment processing solution for Dynamics Great Plains.
eBizCharge integration for GP is: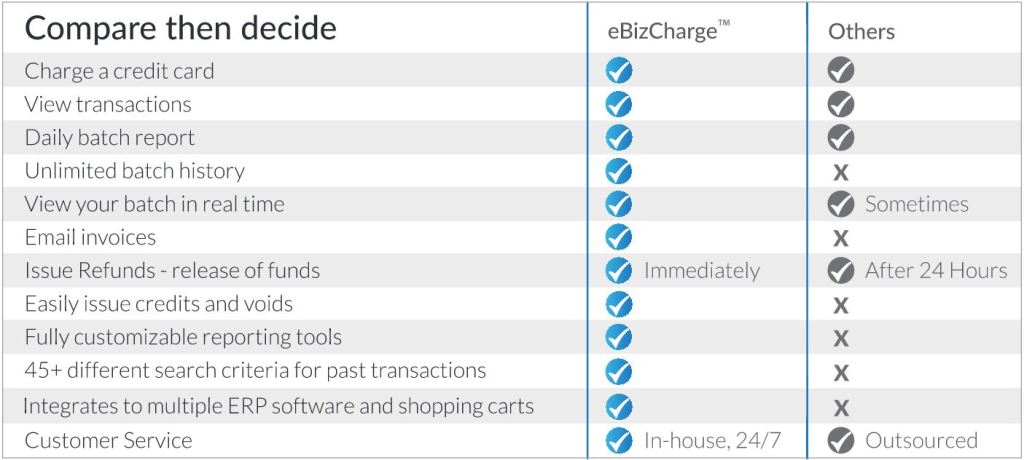 Why eBizCharge for GP?
Easy and hassle-free integration, no retraining required.
Data encryption & tokenization enabled.
Flat rate pricing options. No rate increases.
An excellent in-house support team at no additional costs.
Personal relationship manager
Chargeback management team
Development team
24/7 support
If you use GP and accept credit card payments or were considering doing so, consider using a Microsoft Dynamics GP credit card processing solution.  We'll show you a demonstration and give you a complimentary savings comparison.  Use one of the buttons to your right to get in touch with us.
[/fusion_text][/fusion_builder_column][/fusion_builder_row][/fusion_builder_container]