[fusion_builder_container hundred_percent="no" equal_height_columns="no" hide_on_mobile="small-visibility,medium-visibility,large-visibility" background_position="center center" background_repeat="no-repeat" fade="no" background_parallax="none" enable_mobile="no" parallax_speed="0.3″ video_aspect_ratio="16:9″ video_loop="yes" video_mute="yes" overlay_opacity="0.5″ border_style="solid" padding_top="20px" padding_bottom="20px"][fusion_builder_row][fusion_builder_column type="1_1″ layout="1_1″ spacing="" center_content="no" hover_type="none" link="" min_height="" hide_on_mobile="small-visibility,medium-visibility,large-visibility" class="" id="" background_color="" background_image="" background_position="left top" background_repeat="no-repeat" border_size="0″ border_color="" border_style="solid" border_position="all" padding="" dimension_margin="" animation_type="" animation_direction="left" animation_speed="0.3″ animation_offset="" last="no"][fusion_title hide_on_mobile="small-visibility,medium-visibility,large-visibility" size="1″ content_align="left" style_type="none"]
Microsoft Dynamics Payment Services Will No Longer Support Dynamics GP
[/fusion_title][/fusion_builder_column][fusion_builder_column type="3_4″ layout="3_4″ spacing="" center_content="no" hover_type="none" link="" min_height="" hide_on_mobile="small-visibility,medium-visibility,large-visibility" class="" id="" background_color="" background_image="" background_position="left top" background_repeat="no-repeat" border_size="0″ border_color="" border_style="solid" border_position="all" padding="" dimension_margin="" animation_type="" animation_direction="left" animation_speed="0.3″ animation_offset="" last="no"][fusion_text]
On January 1, 2018, Payment Services for Microsoft Dynamics will be discontinued, according to Microsoft Dynamics Community. This will affect all Microsoft Dynamics GP users who rely on Payment Services. If your company wishes to continue running transactions within your accounting software, you'll need to find another suitable payment application for Microsoft Dynamics GP.
Consider upgrading to an all-in-one payment processing solution that functions as a native GP integration, processor, and payment gateway.
EBizCharge for Dynamics GP allows you to accept credit cards, debit cards, and ACH payments within Microsoft Dynamics GP, save multiple cards per customer, and send transaction receipts through email. The application will post payments to A/R and G/L and mark invoices as paid automatically, and allows you to automate recurring billing with custom payment schedules.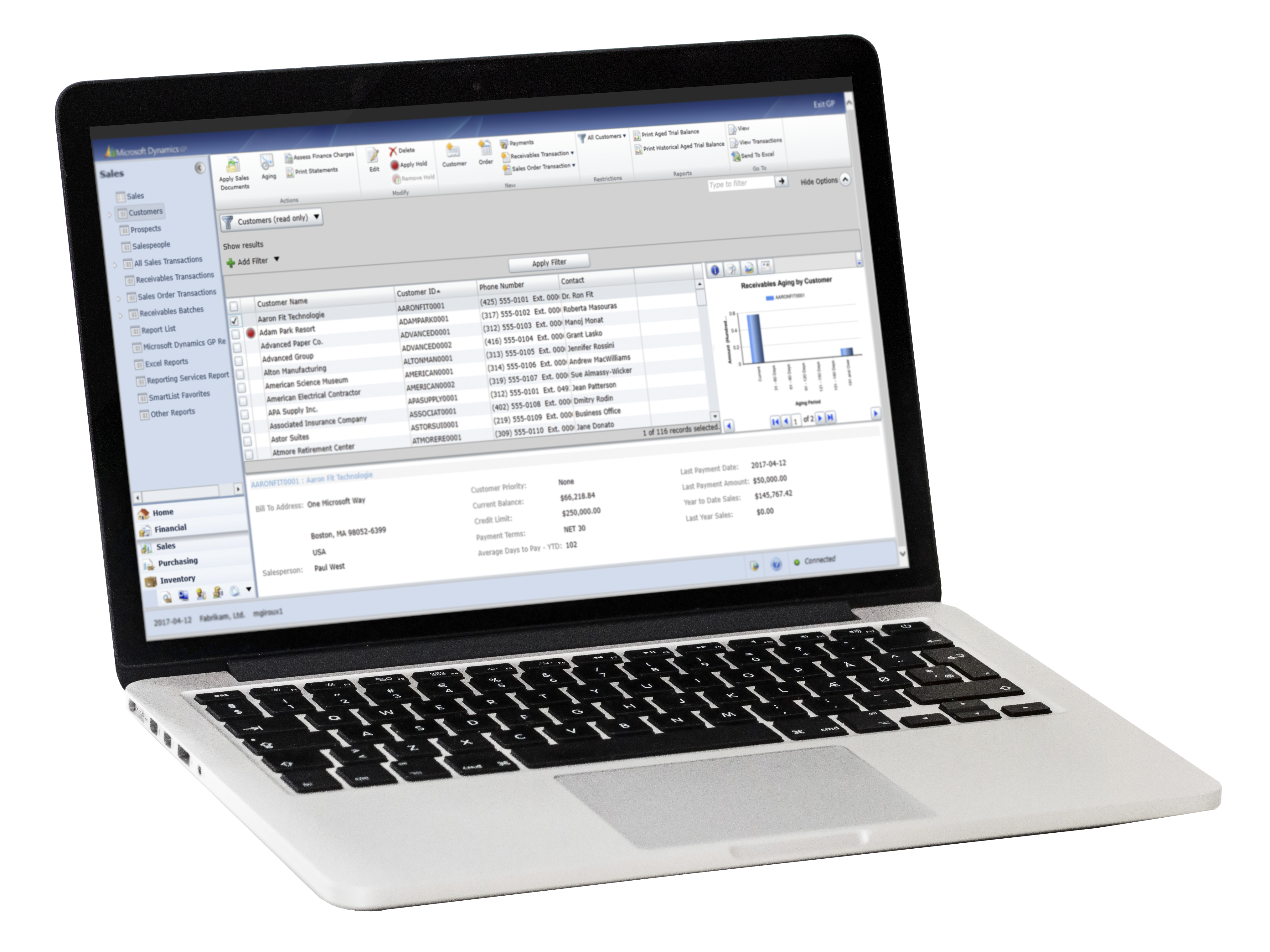 The EBizCharge proprietary gateway includes unlimited batch history, over 45 search criteria, and unlimited users and permission levels. Take advantage of our free in-house support and chargeback management teams, and make payment acceptance a painless process.
EBizCharge Connect allows you to upload invoices to a secure online portal for customers to pay at their own convenience. The payments sync back to Dynamics GP and mark invoices as paid. Connect simplifies the process of invoicing on-terms customers and eliminates the need for cumbersome back-and-forth phone calls.
EBizCharge is a PCI-compliant solution with a multi-layered approach to security that includes both tokenization and encryption. Our employment of tokenization ensures that no sensitive customer payment information is stored within Microsoft Dynamics GP, greatly reducing your liability and risk to your customers.
Upon the discontinuation of Payment Services for Microsoft Dynamics, choose a dynamic payment solution that gives you access to a powerful payment gateway, online payment portal, and automated recurring billing.
[/fusion_text][/fusion_builder_column][fusion_builder_column type="1_4″ layout="1_4″ spacing="" center_content="no" hover_type="none" link="" min_height="" hide_on_mobile="small-visibility,medium-visibility,large-visibility" class="" id="" background_color="" background_image="" background_position="left top" background_repeat="no-repeat" border_size="0″ border_color="" border_style="solid" border_position="all" padding="" dimension_margin="" animation_type="" animation_direction="left" animation_speed="0.3″ animation_offset="" last="no"][fusion_title hide_on_mobile="small-visibility,medium-visibility,large-visibility" size="1″ content_align="left" style_type="none"]
Get in touch
[/fusion_title][fusion_code]W3ZmYiBpZD0yODZd[/fusion_code][/fusion_builder_column][fusion_builder_column type="1_1″ layout="1_1″ spacing="" center_content="no" hover_type="none" link="" min_height="" hide_on_mobile="small-visibility,medium-visibility,large-visibility" class="" id="" background_color="" background_image="" background_position="left top" background_repeat="no-repeat" border_size="0″ border_color="" border_style="solid" border_position="all" padding="" dimension_margin="" animation_type="" animation_direction="left" animation_speed="0.3″ animation_offset="" last="no"][fusion_separator style_type="none" hide_on_mobile="small-visibility,medium-visibility,large-visibility" bottom_margin="35px" alignment="center" /][fusion_section_separator divider_type="triangle" divider_position="center" divider_candy="bottom" bordersize="1″ hide_on_mobile="small-visibility,medium-visibility,large-visibility" /][/fusion_builder_column][/fusion_builder_row][/fusion_builder_container][fusion_builder_container hundred_percent="no" equal_height_columns="no" hide_on_mobile="small-visibility,medium-visibility,large-visibility" background_position="center center" background_repeat="no-repeat" fade="no" background_parallax="none" enable_mobile="no" parallax_speed="0.3″ video_aspect_ratio="16:9″ video_loop="yes" video_mute="yes" overlay_opacity="0.5″ border_style="solid" padding_top="20px" padding_bottom="20px"][fusion_builder_row][fusion_builder_column type="1_3″ layout="1_3″ spacing="" center_content="no" hover_type="none" link="" min_height="" hide_on_mobile="small-visibility,medium-visibility,large-visibility" class="" id="" background_color="" background_image="" background_position="left top" background_repeat="no-repeat" border_size="0″ border_color="" border_style="solid" border_position="all" padding="" dimension_margin="" animation_type="" animation_direction="left" animation_speed="0.3″ animation_offset="" last="no"][fusion_title hide_on_mobile="small-visibility,medium-visibility,large-visibility" size="1″ content_align="left" style_type="none"]
Native GP Integration
[/fusion_title][fusion_checklist icon="fa-check" circlecolor="#03a9f4″ size="13px" hide_on_mobile="small-visibility,medium-visibility,large-visibility"][fusion_li_item]
Accept credit, debit, and ACH payments directly within GP
[/fusion_li_item][fusion_li_item]
Save multiple cards per user
[/fusion_li_item][fusion_li_item]
Option to email transaction receipts to customers automatically
[/fusion_li_item][fusion_li_item]
Posts payments to A/R and G/L automatically
[/fusion_li_item][fusion_li_item]
Marks invoices as paid automatically
[/fusion_li_item][/fusion_checklist][/fusion_builder_column][fusion_builder_column type="1_3″ layout="1_3″ spacing="" center_content="no" hover_type="none" link="" min_height="" hide_on_mobile="small-visibility,medium-visibility,large-visibility" class="" id="" background_color="" background_image="" background_position="left top" background_repeat="no-repeat" border_size="0″ border_color="" border_style="solid" border_position="all" padding="" dimension_margin="" animation_type="" animation_direction="left" animation_speed="0.3″ animation_offset="" last="no"][fusion_title hide_on_mobile="small-visibility,medium-visibility,large-visibility" size="1″ content_align="left" style_type="none"]
Powerful payment gateway
[/fusion_title][fusion_checklist icon="fa-check" circlecolor="#03a9f4″ size="13px" hide_on_mobile="small-visibility,medium-visibility,large-visibility"][fusion_li_item]
Cloud-based
[/fusion_li_item][fusion_li_item]
Unlimited batch history
[/fusion_li_item][fusion_li_item]
45+ search criteria
[/fusion_li_item][fusion_li_item]
ACH check processing
[/fusion_li_item][fusion_li_item]
Unlimited users and permission levels
[/fusion_li_item][/fusion_checklist][/fusion_builder_column][fusion_builder_column type="1_3″ layout="1_3″ spacing="" center_content="no" hover_type="none" link="" min_height="" hide_on_mobile="small-visibility,medium-visibility,large-visibility" class="" id="" background_color="" background_image="" background_position="left top" background_repeat="no-repeat" border_size="0″ border_color="" border_style="solid" border_position="all" padding="" dimension_margin="" animation_type="" animation_direction="left" animation_speed="0.3″ animation_offset="" last="no"][fusion_title hide_on_mobile="small-visibility,medium-visibility,large-visibility" size="1″ content_align="left" style_type="none"]
Integrated payment portal
[/fusion_title][fusion_checklist icon="fa-check" circlecolor="#03a9f4″ size="13px" hide_on_mobile="small-visibility,medium-visibility,large-visibility"][fusion_li_item]
Upload invoices and have customers pay them online
[/fusion_li_item][fusion_li_item]
Accessible from any device with an internet connection
[/fusion_li_item][fusion_li_item]
Accept full or partial payments
[/fusion_li_item][fusion_li_item]
Credit and ACH supported
[/fusion_li_item][fusion_li_item]
Applies payments back to invoices within GP
[/fusion_li_item][/fusion_checklist][/fusion_builder_column][fusion_builder_column type="1_1″ layout="1_1″ spacing="" center_content="no" hover_type="none" link="" min_height="" hide_on_mobile="small-visibility,medium-visibility,large-visibility" class="" id="" background_color="" background_image="" background_position="left top" background_repeat="no-repeat" border_size="0″ border_color="" border_style="solid" border_position="all" padding="" dimension_margin="" animation_type="" animation_direction="left" animation_speed="0.3″ animation_offset="" last="no"][fusion_text]
Source:
https://community.dynamics.com/gp/b/dynamicsgp/archive/2017/01/03/discontinuation-of-dynamics-online-payment-services
[/fusion_text][/fusion_builder_column][/fusion_builder_row][/fusion_builder_container]