[fusion_builder_container hundred_percent="no" equal_height_columns="no" hide_on_mobile="small-visibility,medium-visibility,large-visibility" background_position="center center" background_repeat="no-repeat" fade="no" background_parallax="none" parallax_speed="0.3″ video_aspect_ratio="16:9″ video_loop="yes" video_mute="yes" overlay_opacity="0.5″ border_style="solid"][fusion_builder_row][fusion_builder_column type="1_1″ layout="1_1″ background_position="left top" background_color="" border_size="" border_color="" border_style="solid" border_position="all" spacing="yes" background_image="" background_repeat="no-repeat" padding="" margin_top="0px" margin_bottom="0px" class="" id="" animation_type="" animation_speed="0.3″ animation_direction="left" hide_on_mobile="small-visibility,medium-visibility,large-visibility" center_content="no" last="no" min_height="" hover_type="none" link=""][fusion_text]
Sage Payment Solutions: An Alternative
As a Sage user, you have likely already spent thousands of dollars implementing an ERP system that can streamline your business operations and increase efficiency. Indeed, many mid to large-sized companies will eventually collect positive returns on their ERP investments within 1 to 3 years after adopting them. These returns are usually measured in gained operational efficiency, which most ERP solutions will eventually deliver in the long-term.
However, many third-party software solutions do exist, most developed specifically to enhance functionality, that can drastically expedite the return on an ERP investment. These software extensions improve software performance or add new features to help businesses. Additionally, these modules can sometimes help companies offset some of the initial ERP system implementation costs. For example: A commission calculator enhancement can help an account payable manager reduce time on managing sales rep commissions and other commission related tasks. For a company that has hundreds of sales reps, even a 5 minute saving per account can quickly add up to thousands of dollars in saved time and resources.
Another example of how a software enhancement can help streamline financial activities within the Sage ERP system, is the payment processing add-on. With customers increasingly using electronic payment methods, businesses need to be equipped with the proper tools and technology, that can enable the acceptance of  numerous credit cards, debit cards, and electronic checks. While big bulky terminals address the payment needs for some businesses, many companies prefer to have a more comprehensive solution that can do more than just process payments. More specifically, modernized organizations prefer to integrate their entire payment processing cycle to minimize double data entry and human errors, and increase financial transparency in their reporting.
Most companies working with a specific ERP solution, are aware that software providers typically offer some kind of extension to enhance their software functionality. However, many companies are not aware that there are at least 2-3 alternative enhancements, developed by third-party companies for every existing ERP system. These third-party enhancements, are often as good or better than the original software manufacturer's recommended solution.
eBizCharge for Sage ERP: An alternative to Sage Payment Solutions
Accepting credit cards as a form of payment makes it convenient for your customers to pay their invoices and can free up your internal resources from tedious and error-prone daily tasks, including printing and mailing invoices, processing and depositing checks, and reconciling  accounts at the end of the day. As a merchant solution provider, we take pride in our ability to offer tech-based processing solutions that can streamline accounting workflow, increase efficiency, and reduce overall processing costs.
Our integrated payment processing enhancement for Sage ERP is a low-cost alternative, that can facilitate the processing of payments within your current Sage ERP system and further streamline the process. Designed with Sage users in mind, our solution is intuitive and easy to learn. Furthermore, there are no costs to purchase or license our enhancement.
Through our integrated payment processing solution for Sage ERP products, you can process payments at various stages in the sales entry modules. In addition, our solution: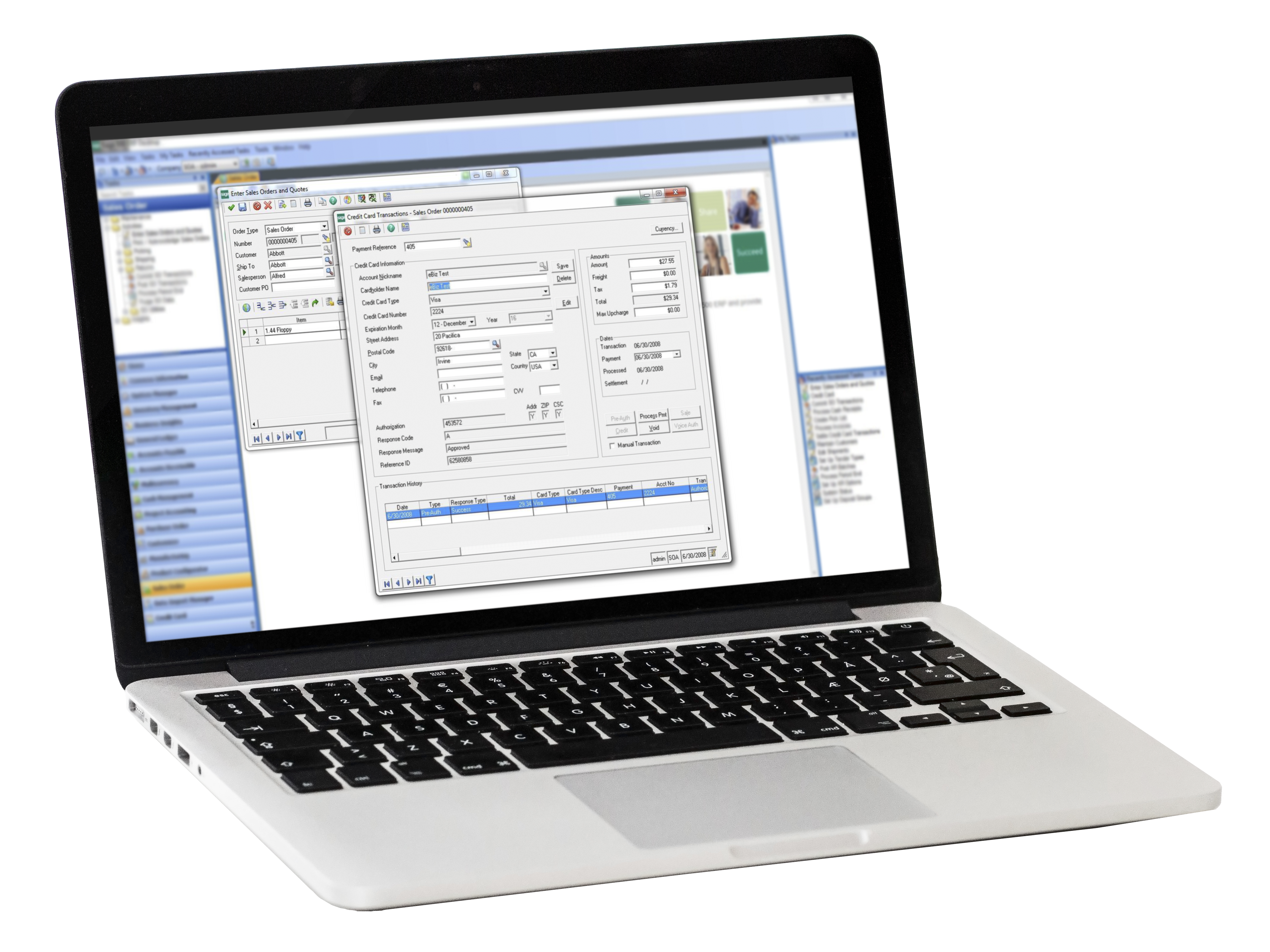 Can automatically update invoices, G/L and A/R to reflect payments
Stores credit card data in our eBizCharge vault to minimize your PCI scope and maximize data security
Can be set to process cards on file for recurring invoices
Can send automatic email receipts
Utilizes data encryption and tokenization technology for maximum security
 eBizCharge Payment Gateway
With eBizCharge as your payment gateway, you can:
View your batch in real-time
Use 45+ different search criteria for past transactions
Have access to unlimited batch history
Easily issue credits and voids
Customize reporting tools
Rest assured that the transactions are PCI compliant
Century Business Solutions
Switch to Century today and take advantage of:
A quick and seamless transition
No installation fees
No annual maintenance fees
No consulting fees
24/7 unlimited U.S. based in-house support
A dedicated charge back management team
A clear and simple pricing model
Next day funding options
[/fusion_text][/fusion_builder_column][/fusion_builder_row][/fusion_builder_container]