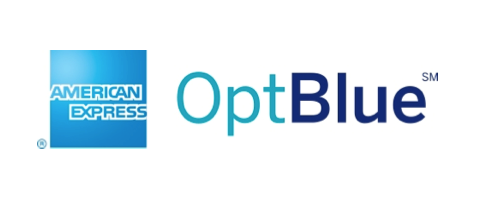 What is Amex OptBlue?
The 2014 introduction of the Amex OptBlue program by American Express ("AMEX") was promoted primarily as an affordable way to facilitate the acceptance of AMEX cards within small businesses. To qualify for the lower priced OptBlue program, a business must process less than $1 million dollars in AMEX credit cards annually. For American Express, the OptBlue program provides a tangible inroad into the lucrative small business credit card market which, for decades, has been dominated by Visa and MasterCard.
Prior to the introduction of Amex OptBlue, AMEX offered smaller businesses (with lower transaction volume) substantially higher processing fees (also known within the payment industry as interchange rates), than those offered by Visa and MasterCard.  Due to the traditionally higher interchange rates associated with AMEX, it made very little financial sense for small businesses to consider accepting AMEX cards. That scenario led up to the implementation of the OptBlue program.

Benefits beyond the lower processing rates
Another selling point of the OptBlue program, is the simplicity of having a single point of contact for all of the major credit card brands. Other OptBlue highlights include a single settlement process, and just one monthly statement to review.
For most merchants, however, the two most important factors in deciding whether or not to participate in the OptBlue program are generally (1) the percentage fee, referred to in the payment industry as the "Rate" and (2) any other related fees.
It's worth mentioning that in addition to wholesale pricing discount, the OptBlue program tacks on a 0.15% "network fee" to the gross volume. Another important surcharge worth mentioning is the additional 0.30% fee OptBlue will charge for each card-not-present transaction. These surcharges, however, are in line with those already charged by Visa and MasterCard. OptBlue interchange rates are also fixed and identical for all merchants.  Therefore the only financial variable in the entire process is the service and pricing model that a third-party merchant services provider brings to the credit card transaction process.
Get informed
It is important for merchants to have all of the available information before deciding on whether to participate in a new merchant program. Misinformation causes confusion for small businesses owners.  A well established and reputable merchant services provider can evaluate a merchant's needs and so that the merchant can make an informed choice about whether the time is right to participate in OptBlue.
Whether or not the OptBlue program proves ultimately successful remains to be seen. One year after its introduction, American Express announced that over 700,000 small businesses had already enrolled in the program.   After so many years of AMEX non-acceptance at small business locations, however, many consumers have grown accustomed to only consider using Visa or MasterCard for their purchases.
Summary:
-The recently introduced OptBlue program by American Express is designed to provide small business substantial discounts on lower processing volume.
-A small business must process less than $1 million dollars in AMEX cards per year to qualify.
-As with Visa and MasterCard, there are associated OptBlue fees in addition to the lower interchange rates to consider.
-Actual AMEX interchange rates are not negotiable, but a merchant service provider's fee IS so best to shop around for an experienced and reputable company to handle the actual processing.
http://www.paymentssource.com/news/retail-acquiring/amexs-optblue-wins-merchants-but-can-it-win-consumers-3021922-1.html
http://www.practicalecommerce.com/articles/70597-American-Express-OptBlue-Program-May-Reduce-Processing-Cost
https://icm.aexp-static.com/Internet/NGMS/US_en/Images/merchantpolicypdfs/US_RefGuide_Oct2015.pdf