This is a friendly reminder from Century Business Solutions that you have not completed the Self Assessment Questionnaire. Please be advised this is necessary in order to keep your company up to date and PCI compliant. We ask that you complete the Self Assessment Questionnaire as soon as possible.
If you have already completed the assessment, all that is required for you to do is complete an annual SAQ Validation and schedule a scan (if applicable).
Not everyone will be required to complete a scan
Step 1
Login to the portal, click on Annual SAQ Validation. CLICK HERE TO LOGIN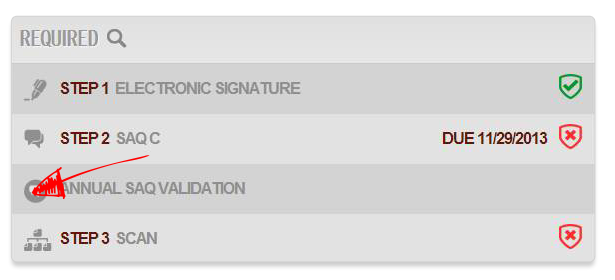 Step 2
Next check the box and click "Update"

Step 3
All done until this time next year.
Questions?
We are here to help
Questions regarding the portal provided or regarding your PCI compliance program, please contact Century Business Solutions's team at support@centurybizsolutions.com or by calling 888-500-7798.
Every merchant has the requirement to complete an online Self Assessment Questionnaire (or better known as a "SAQ") and once all questions are answered they earn a "Compliant" status. In the event you are unable to complete the SAQ to "Compliant" status you can return to your responses by logging into your account at https://cbs.pcicompliance.ws and clicking on the SAQ from your Dashboard. You may also be required to complete a Scan of your outward facing IP address given to you by your Internet Service Provider if you process credit card data through an Internet connection.
Should you have any questions regarding the SAQ or regarding your Scan or Scan results please contact our Technical Support Department through the Portal under the "Help / Contact us" tab on the Merchant Dashboard. You can also contact us by email at SUPPORT@CENTURYBIZSOLUTIONS.COM
We sincerely appreciate the opportunity to serve you.
For more general information regarding PCI Compliance and related details please visit https://www.pcisecuritystandards.org