[fusion_builder_container hundred_percent="no" equal_height_columns="no" hide_on_mobile="small-visibility,medium-visibility,large-visibility" background_position="center center" background_repeat="no-repeat" fade="no" background_parallax="none" parallax_speed="0.3″ video_aspect_ratio="16:9″ video_loop="yes" video_mute="yes" border_style="solid"][fusion_builder_row][fusion_builder_column type="1_1″ layout="1_1″ background_position="left top" background_color="" border_size="" border_color="" border_style="solid" border_position="all" spacing="yes" background_image="" background_repeat="no-repeat" padding="" margin_top="0px" margin_bottom="0px" class="" id="" animation_type="" animation_speed="0.3″ animation_direction="left" hide_on_mobile="small-visibility,medium-visibility,large-visibility" center_content="no" last="no" min_height="" hover_type="none" link=""][fusion_text]
An Introduction to Level III Pricing: The Hidden Pricing Advantage Just for B2B Companies

Most B2B business owners don't realize there's a way they can drastically reduce their credit card processing fees.  And, no, this isn't even a sales pitch.
B2B business owners can save through level III data  payment processing.  The idea is this: rather than a single cost to accept credit cards, or even three costs (as those of you on three-tiered pricing programs might be led to believe), there are around 350 different prices to accept credit cards, each corresponding to a different type of card and qualification.  Level III is a certain qualification that business-type cards and government purchasing cards can attain; it corresponds to the highest amount of data passed along with normal transaction information and thus gives the lowest possible price to accept that transaction.
For the purposes of this post, you don't even have to worry about most of the 350 prices as they won't affect you.  There are about thirty or so prices that will affect you, and exactly a third of those are the coveted level III prices.
How level III works 
Here's what's going on.  Specifically for business-type, corporate-type, and government-type purchasing cards, businesses can earn lower acceptance prices for passing along additional information about the transactions.  Visa and MasterCard set their own interchange prices and, understandably, they don't want to be held liable for transactions passed fraudulently.  If more transnational information is passed along, it is less likely that transaction is fraudulent.  So, Visa and MasterCard request things like an invoice number, a destination ZIP code, tax amount, freight amount, and other numerical values that would be difficult to provide correctly on a bad transaction.
Different pricing levels
Why is level III called level III?  The reason is there are two other pricing levels below it, each corresponding to less transnational detail provided.  Level I is, of course, the bare minimum amount of detail: just the charge amount, the merchant name, and the date (along with the requisite credit card number).  Transactions can't be processed without level I data.  If you pass along tax information and a customer code, you qualify for level II pricing.  And then, there's level III, which requires a good deal more information.  Here's a full breakdown: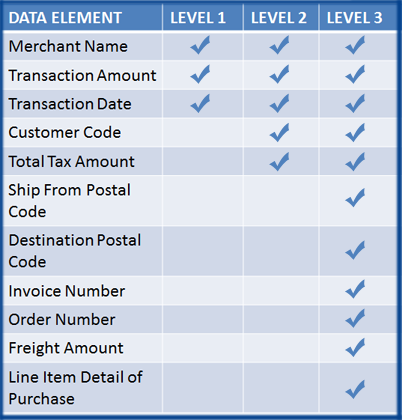 How do I provide level III data?
One of the reasons some business owners or accountants don't know about level III is because their processing equipment simply doesn't support it.  Physical box terminals can't accept the data, and even most virtual, computer-based gateways aren't programmed to allow users to pass additional information.  In order to benefit from level III, you'll need, specifically, a virtual gateway that's able to pass the information.  If you already use a virtual gateway, making the switch to a level III-capable gateway won't be such a shock to the system.  But, if you currently swipe or key cards into a terminal, you'll be amazed at the added functionality of a virtual gateway, level III-capable or not.  Virtual gateways pack a lot of great extra functionality, like on-the-fly batch viewing and an array of reporting and searching features.
Is the extra work worth the savings?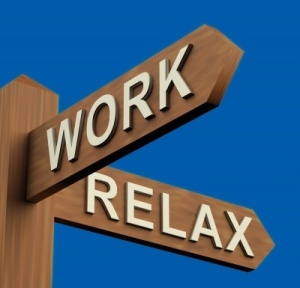 As you can tell by scanning the table above, it looks like a lot of extra work to provide that level III data.  Make no mistake: it can be.  But, as with any pricing plan based on percentages, the potential advantage grows as your credit card dollar volume does the same.  Take this scenario for example:
You don't do much credit card business—you accepted 1 transaction for $100 the whole month, in fact.  You know by looking at your Interchange Referecne Guide (yeah, right!) or from talking to your processor extensively that the Visa purchasing card your card-wielding customer uses normally qualifies at a cost of 2.65%.  You also know that by staying after hours and entering level III data, that card will qualify at 1.85%.  You do the math.  If you settled your batch and left work now, you'd pay $2.65 to accept that transaction.  But, if you stayed a few minutes after work and entered the extra data, you'd pay $1.85. What's eighty cents?  You think to yourself as you walk out the door.
Obviously not worth anyone's time.  In fact, you'll pay eighty cents for the convenience of not having to enter that data.  You might even forgo entering the extra data for a $500 transaction (which would save you $4).  But, take a look at this for comparison:
You do a good deal of credit card business.  You have many transactions every day, and your monthly total is around $500,000 consistently.  And, your clientele is 100% other businesses.  The minute you heard about level III, you invested in it because it saves you a fortune every month, even if it's a good deal of extra work at the end of each day.  Your customers all use the same Visa purchasing card, which used to cost you 2.65% to accept, for a total of $13,250 in interchange fees.  But now that you use a level III gateway, you only pay 1.85%, which means $9,250—a savings of $4,000.  Every single month since you started taking advantage.
Would you change processing methods or switch gateways for a $4,000 prize every month?  It sounds almost like something out of Publishers' Clearing House.  Unfortunately, many business owners, accountants, and other C-level personnel are woefully uneducated about level III pricing and its benefits.  The math is simple, though, and, for a bit of extra work, the cost savings potential can be enormous.  What if you accept a million dollars in Visa purchasing cards per month?  You save $8,000.  Two million?  You save $16,000, a truly astronomical number.
So, are you ready to start saving now?
Not every payment processor will be able to accommodate you, and some may not even know what you're talking about when you ask about it.  Aim for the ones that do, and get yourself set up properly with a level III gateway.  Your bank account will thank you.
[/fusion_text][/fusion_builder_column][/fusion_builder_row][/fusion_builder_container]