[fusion_builder_container hundred_percent="no" equal_height_columns="no" hide_on_mobile="small-visibility,medium-visibility,large-visibility" background_position="center center" background_repeat="no-repeat" fade="no" background_parallax="none" parallax_speed="0.3″ video_aspect_ratio="16:9″ video_loop="yes" video_mute="yes" overlay_opacity="0.5″ border_style="solid"][fusion_builder_row][fusion_builder_column type="1_1″ layout="1_1″ background_position="left top" background_color="" border_size="" border_color="" border_style="solid" border_position="all" spacing="yes" background_image="" background_repeat="no-repeat" padding="" margin_top="0px" margin_bottom="0px" class="" id="" animation_type="" animation_speed="0.3″ animation_direction="left" hide_on_mobile="small-visibility,medium-visibility,large-visibility" center_content="no" last="no" min_height="" hover_type="none" link=""][fusion_text]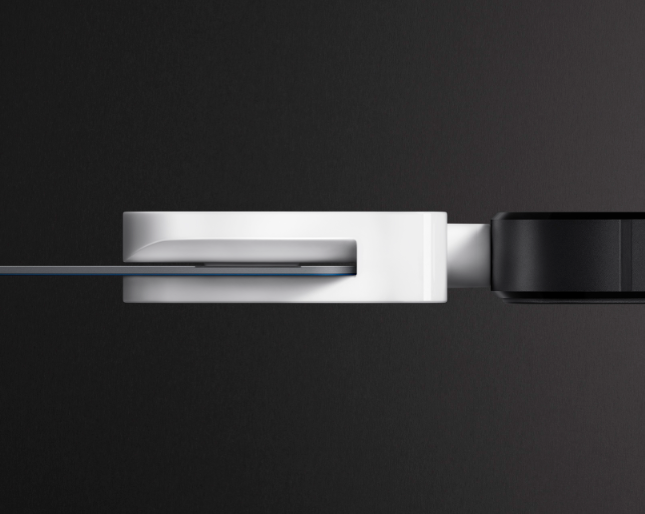 I don't like to bash other merchant processing companies. That isn't the main purpose of this post. This blog is meant to share information with the merchant processing community, and help you make an educated and informed decision on how your company processes you credit card transactions. With that being said, I want to talk about the new Square Card Reader.
If you haven't heard by now, there is a new Square Card Reader that reportedly performs better, is more accurate and uses less power than previous versions. All of which is guaranteed to stand out from its competitors.
The new Square Card Reader uses a purpose-built single chip instead of a set of off-the-shelf components, Square head of hardware Jesse Dorogusker told GigaOm. This means the Square Reader consumes less power and does not need a bulky battery. Instead it draws power from the mobile device audio plug to which it is connected.
The new Square Card Reader offers improved communications and is also compatible with more devices than older versions, Square said in a press release. The device is available now for free at square.com to anyone who signs up for a Square account. In the New Year, it will be available at the 30,000 stores across the U.S. that carry the Square Reader.
This all sounds great, and by now you might be asking, "What is this guy's deal?" Well, in all reality, the new Square Card Reader may have much better functionality and a broader acceptance than its prior versions, but it doesn't qualify transactions any different than the old reader. Regardless of its enhanced features and functionality, you are still WAY overpaying for interchange fees. I broke down the fee structure in another article that was posted not too long ago (I was afraid this article would look like we were bashing Square, hence, the precursor at the beginning). I encourage you to take a look at how much you might be overpaying on your own merchant fees.
The Final Word on the New Square Card Reader
While you are definitely enhancing your experience with Square by taking advantage of the updated card reader features, I can't personally recommend their services. Knowing that you can get better rates and pricing with just about any other merchant processing company, functionality can't be the most important deciding factor in your decision making process.
Granted, some of you out there are looking for a simple way to get started processing as fast and easy as possible. That's all good and well, and in this case, Square is probably the route for you to take. But as you begin processing in higher quantities, I would highly advise you to take a look at processing with a company that can give you the same, or better, functions as Square.
[/fusion_text][/fusion_builder_column][/fusion_builder_row][/fusion_builder_container]