[fusion_builder_container hundred_percent="no" equal_height_columns="no" hide_on_mobile="small-visibility,medium-visibility,large-visibility" background_position="center center" background_repeat="no-repeat" fade="no" background_parallax="none" parallax_speed="0.3″ video_aspect_ratio="16:9″ video_loop="yes" video_mute="yes" overlay_opacity="0.5″ border_style="solid"][fusion_builder_row][fusion_builder_column type="1_1″ layout="1_1″ background_position="left top" background_color="" border_size="" border_color="" border_style="solid" border_position="all" spacing="yes" background_image="" background_repeat="no-repeat" padding="" margin_top="0px" margin_bottom="0px" class="" id="" animation_type="" animation_speed="0.3″ animation_direction="left" hide_on_mobile="small-visibility,medium-visibility,large-visibility" center_content="no" last="no" min_height="" hover_type="none" link=""][fusion_text]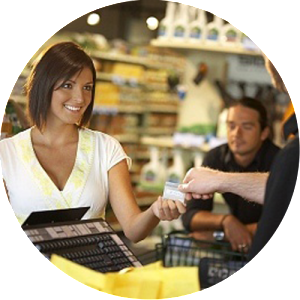 This article address various methods for processing credit cards through a merchant services company to enable you to select a processor who can provide you the business solutions that fit your precise business model.  For an overview on merchant fees, click here.
Step one: What kind of business do you run?
Different solutions will apply to different kinds of businesses.  For example, if you run a burger joint and service two hundred folks a day, you wouldn't understand a hapless telemarketer if he asked you whether or not you invoiced out of a program like QuickBooks so he could sell you on an integrated payment solution.  That wouldn't make sense for you.  It would make sense to use a processor who could provide an integration to your burger shop POS program (for example, Aloha might be a program of choice), or, if you don't have a computer at your register, it would make sense to find a processor who could sell you a physical terminal.
On the other hand, if you run a manufacturing business, an internet business, a distributorship, or another MOTO business, you'd probably want a solution that fit your exact business model.  Sadly, the reverse of the scenario above does not hold true for industries like these for the most part.  While some have discovered the benefit of an integrated software solution, a shopping cart plugin, or a virtual gateway, many merchants use a physical credit card terminal to handle their transactions, many of which are card-not-present and incur downgrades on their costs for that reason.  No matter where you lie on the spectrum, take some time to consider whether or not the service you receive really fits your business, irrespective of the fees you're charged.  For example, does it make sense to pay a premium for a credit card processing integration for a program like Sage 100?  Well, what if you saved the time of manually reconciling 20 invoices per day, all of which required you to enter special line item details into the program or incur an extra charge?  Something like that could be a good fit for your business if it would save you that much time–after all, what's your time worth?
Century Business Solutions offers a easy quote at no cost to you.
Step two: What pricing options and other peripheral options work best for you?
Once you take a look at your business-specific processing options, you can start to narrow down by things like pricing and support packages.  If you run a retail shop, you'll have all kinds of options in that regard.  You'll see some companies that have volume-related discounts or pricing tiers, and others that don't.  You'll see some companies that charge extra for support calls and installations and the like, and some companies with an added flat fee but unlimited support.  Unless you can predict the kind of help you'll need (which can be difficult) and the volume you'll accept per month (which isn't so difficult if you have processing history), it will be difficult to predict what kind of pricing will be appropriate.  Beware if the ultra-low price a merchant services company may quote to win your business is increased once extra options are added into the mix.  Google is a good source to check out online processing reviews about merchant services companies.
A final note: Avoid contracts if at all possible.  Those contracts are everywhere too, but companies who don't offer them tend to be more competitive.  Avoiding a contract term enables you to shop around if the merchant services company that you select fails to deliver on its promises.
 Step three: Once you select a merchant services company pay attention to whether the company delivers on its promises.
After you've made a decision on a processor, you might be inclined to form your opinion of your new business partner quickly–don't.  It may takes months to observe whether your selected merchant services company offers adequate customer support and whether the pricing is fair.  If you feel you've been wronged and your trust in your new merchant services company has been damaged irreparably, find another merchant services company.
[/fusion_text][/fusion_builder_column][/fusion_builder_row][/fusion_builder_container]