In an era marked by low employee engagement and high burnout rates, managers are striving to create cohesive teams that produce quality work and offer innovative ideas. What's the secret to unlocking each team member's true potential?
Engagement, defined as involvement in, enthusiasm about, and commitment to one's work, encourages productivity. Increased productivity, in turn, leads to better business outcomes. But if boosting the numbers is the focus, rather than creating a more enjoyable work experience, companies run the risk of falling into the "survey trap": collecting data and expecting engagement to improve without implementing any actual strategies to facilitate it.
Surveys can be useful informational tools, but they're not a solution in themselves. Neither is hiring a single star player and calling it a day. Creative, supportive, goal-achieving teams don't just happen—they're built with intention and care.
Start with the individual
According to the latest iteration of Gallup's State of the American Workplace report, employees become 7.8% more productive when they understand their own strengths. Teams that designate tasks based on the strengths of their members report 12.5% greater than average productivity. Employees who utilize their strengths in their work every day are more likely to be engaged and less likely to look for work elsewhere.
"In a strength-based work environment, employees learn their roles more quickly, produce more and significantly better work, are more engaged and stay with the company longer," Edge Training Systems, Inc. founder Paul O'Keefe writes. And yet, Gallup reports that only four in 10 employees agree they have the opportunity to do what they do best every day.
The logical first step, then, is to determine an individual's strengths, or applicable abilities that he or she enjoys and does better than most of his or her colleagues. This may be as simple as asking an employee what kind of work he or she enjoys, but if your team members don't yet possess this self-awareness, it may require less direct strategies, like administering a survey or having more general conversations about a person's interests outside of work. Creating space for employees to talk about notable life events and to recognize and affirm each other's abilities can provide further insight.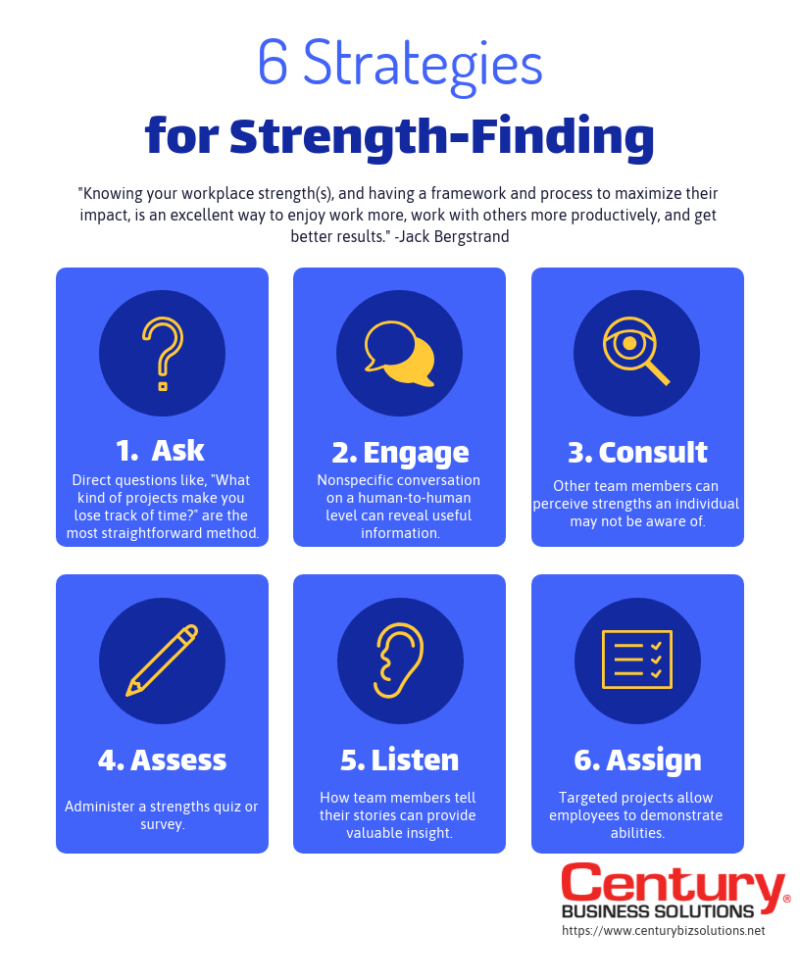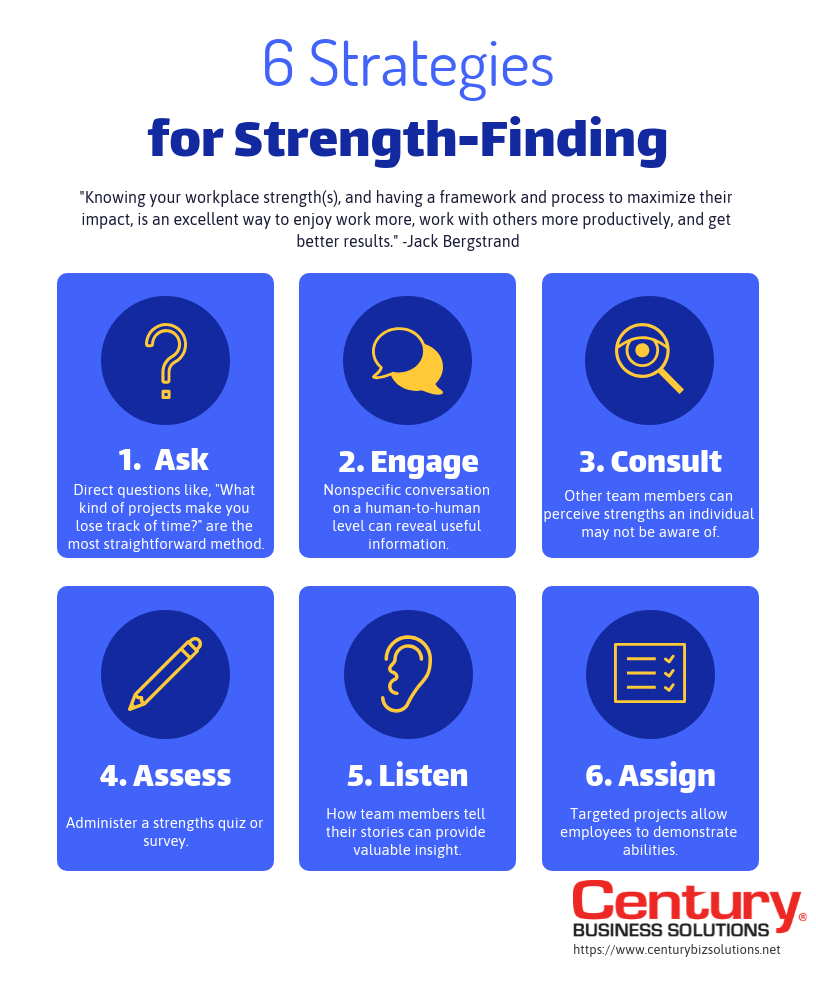 Put your data to work
The questions have been asked, the surveys and strengths quizzes have been collected, the stories have been shared—now what? Just generating the data won't facilitate greater team engagement or cohesion. It's time to go back to the drawing board.
The first of Gallup's 12 Elements of Engagement is this: I know what is expected of me at work. Only six in 10 employees agree with this statement. To create more meaningful work and facilitate greater productivity, managers and employees must collaborate to establish clear expectations that align with the goals of the team and the mission of the company, while taking into account the employee's strengths and stated job requirements.
Regular conversations and progress reviews—rather than one annual performance review—provide opportunity for prioritization, troubleshooting, and reevaluation, as well as giving managers a convenient space to praise employees for exceptional work and constructively discuss tasks that could have been better executed (or delegated to another employee whose strengths dovetail with the expectations).
With an understanding of employee strengths, team leaders can pair up complementary team members to enhance talent and balance deficiencies. They can also create mentoring relationships so that team members can share their strengths with less-developed individuals. Working closely together to achieve common goals and actively participating in teaching new team members imparts deeper value to employees' work and gives them a stronger sense of purpose.
Research demonstrates that access to career development and learning opportunities also encourages engagement. While it's tempting to hire someone who's already established in their field, doing so may prevent the rise of a potential star who just hasn't been given the attention and resources to prove his or her abilities.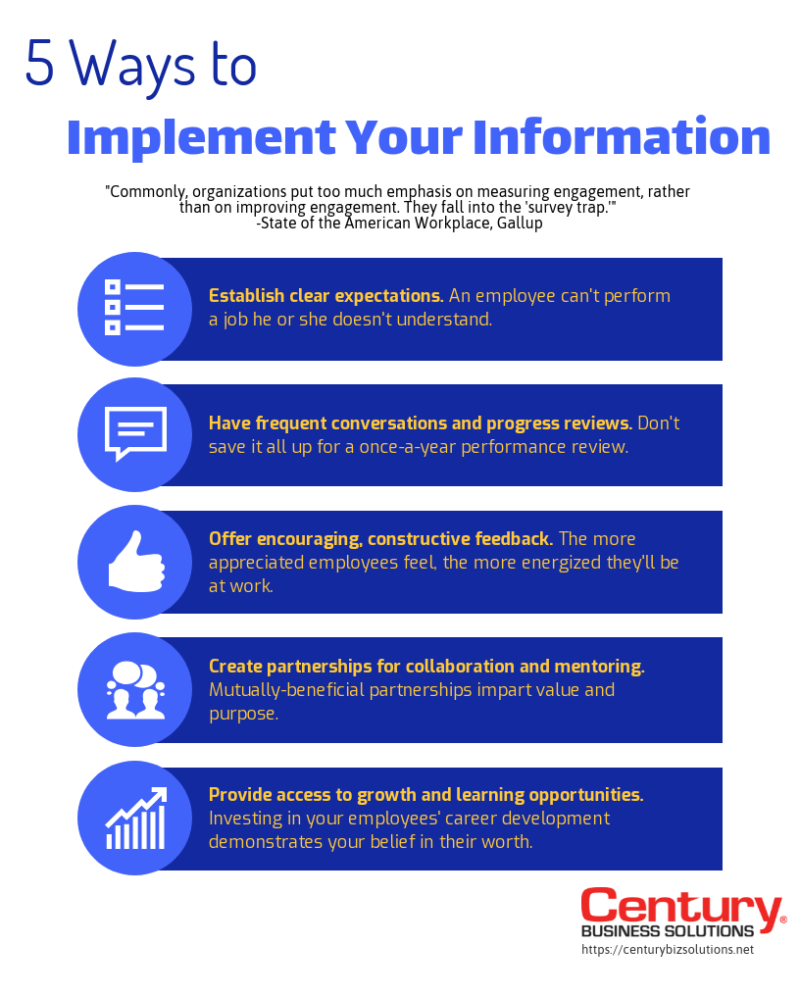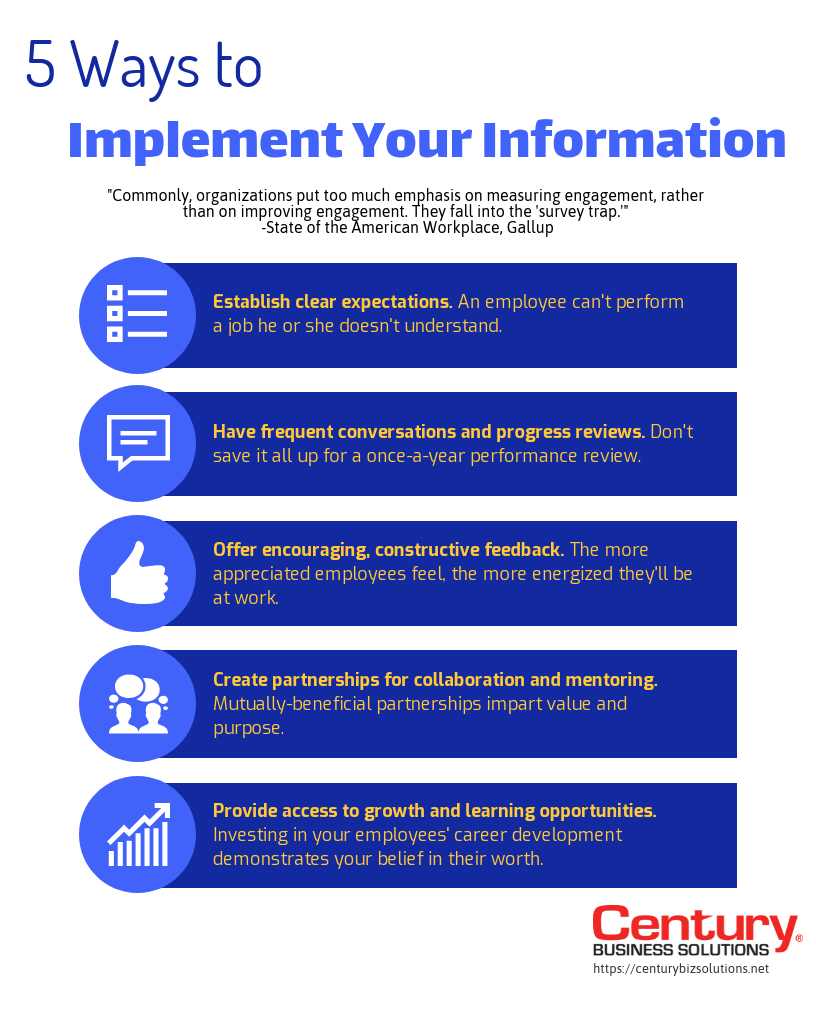 Develop your superteam
Happy employees are cooperative employees. If team members understand both their own strengths and those of their peers, and are given positions and tasks that utilize those strengths, team chemistry will improve as mutual respect increases. Intentional team culture-building will also encourage a sense of team cohesion and empowerment.
Solid teams exhibit a variety of positive characteristics. They have a well-established workflow and a clear understanding of each team member's role in the process. Team members communicate openly and effectively, state goals and make realistic plans for achieving them, pull their weight equally, and trust and support each other. Together they create a network that allows for experimentation and risk-taking, as no single person will be left to take the blame for ideas gone awry. They are diverse but well-organized, proud of their work but inspired by innovation, and good at having fun and celebrating success.
How does your team stack up?
Conclusion
If a team leader can clearly articulate the mission and purpose of their company and outline achievable goals with actionable plans, team members will trust him or her and strive to do their work well. If team members have roles they understand that cater to their strengths and know they're supported by both their leader and their fellow team members, their work will feel productive and rewarding. Improved employee engagement will facilitate team cohesion, and better business outcomes will result.
From the individual to the company as a whole and the recipients of the services or products it offers, everyone wins when strengths are identified and leveraged for maximum impact.