Want to accept credit card payments in QuickBooks, but don't want to pay Intuit's high processing fees?
You're not alone.
Taking payments directly in your QuickBooks software significantly boosts your business's efficiency. You get to kiss double data entry goodbye and watch as manual payments and invoice reconciliation become things of the past.
But despite how much businesses stand to benefit from integrated payments, many simply can't afford Intuit's high processing fees.
So what's a business to do?
Search for a different QuickBooks credit card payment integration.
Payment processors that offer QuickBooks payment integrations, such as EBizCharge, can drop your processing costs up to 43%. That means if you're paying an average of $1,000 a month in processing fees, you could potentially save $430 each month or $5,160 a year.
However, as much as the ticket price matters to your business, don't let the temptation of low cost draw you into a bad business deal. Most payment processors have lower price points than Intuit, but a trustworthy and reliable processor needs to have more than just low processing rates.
Here's a checklist of the key attributes to look for in your integrated payment processor.
How to select a payment processor for QuickBooks:
Free cost savings analysis
First and foremost, ask any potential credit card processor to provide you with a cost savings analysis. You'll be able to determine at once whether or not that processor can save you money.
Next, ask which pricing structures they offer. If tiered pricing is the only structure available, it might be wise to look elsewhere. Tiered pricing plans are notorious for their lack of transparency and high rates.
Instead, look for two other pricing structures: flat rate and interchange plus. Both plans are great options for reducing your rates, and with flat rate in particular, processors will often guarantee a cost savings. Ask to see the projected savings analysis for both pricing structures on your last three statements to get a good idea of how much you'll save.
No contract
Many reputable integrated payment providers avoid locking you into a long-term contract.
Why?
They are confident in their services and don't feel it's necessary to pin you down to keep you from leaving. Good processors have merchants that want to stick with them, not ones that are counting down the months until their contract expires. You want to find a merchant services provider that will maintain a healthy relationship with you and earn your trust month-to-month.
Without a contract, you're free to seek out better services if your payment processor raises fees or provides poor customer service.
PCI compliant
The oh-so-dreaded phrase: PCI compliance. If you've been in the business world for a while now, you understand how grueling it can be to maintain PCI standards.
Your payment processor should be able to lighten your load by adhering to PCI regulations. Not every processor has a PCI-compliant QuickBooks integration, so make sure to ask.
An ideal processor will also utilize the latest tokenization technology to guarantee that customer data stays protected.
In-house customer support
Imagine you're in a large crowd and someone asks, "Who here has experienced poor customer service?"
How many hands do you think would shoot up?
Probably all of them.
But despite our frequent negative experiences, most of us don't consider the quality of customer service we'll get when buying a good or service.
Don't make this mistake when selecting a payment processor. The last thing you want is to experience issues with your transactions and have to wait hours or even days before talking to someone who has the authority and knowledge to resolve the issue.
An in-house customer support team will keep your business running smoothly and should be a primary factor when selecting a payment processor.
Chargeback management team
Chargebacks can be downright devastating for small- to medium-sized businesses.
In 2017, merchants suffered a loss of about $19 billion due to chargebacks. If you don't have a solid chargeback management team on standby, then you're left alone to fight any disputes.
Having chargeback support is especially important for businesses that supply big-ticket items or services. A $1,000 chargeback could disrupt cash flow and cause serious problems.
Finding a payment processor that provides you with a proactive chargeback team will be a huge benefit to you down the line. Chargeback teams will help you settle disputes, alert you of any issues, and decrease the amount of chargeback fraud.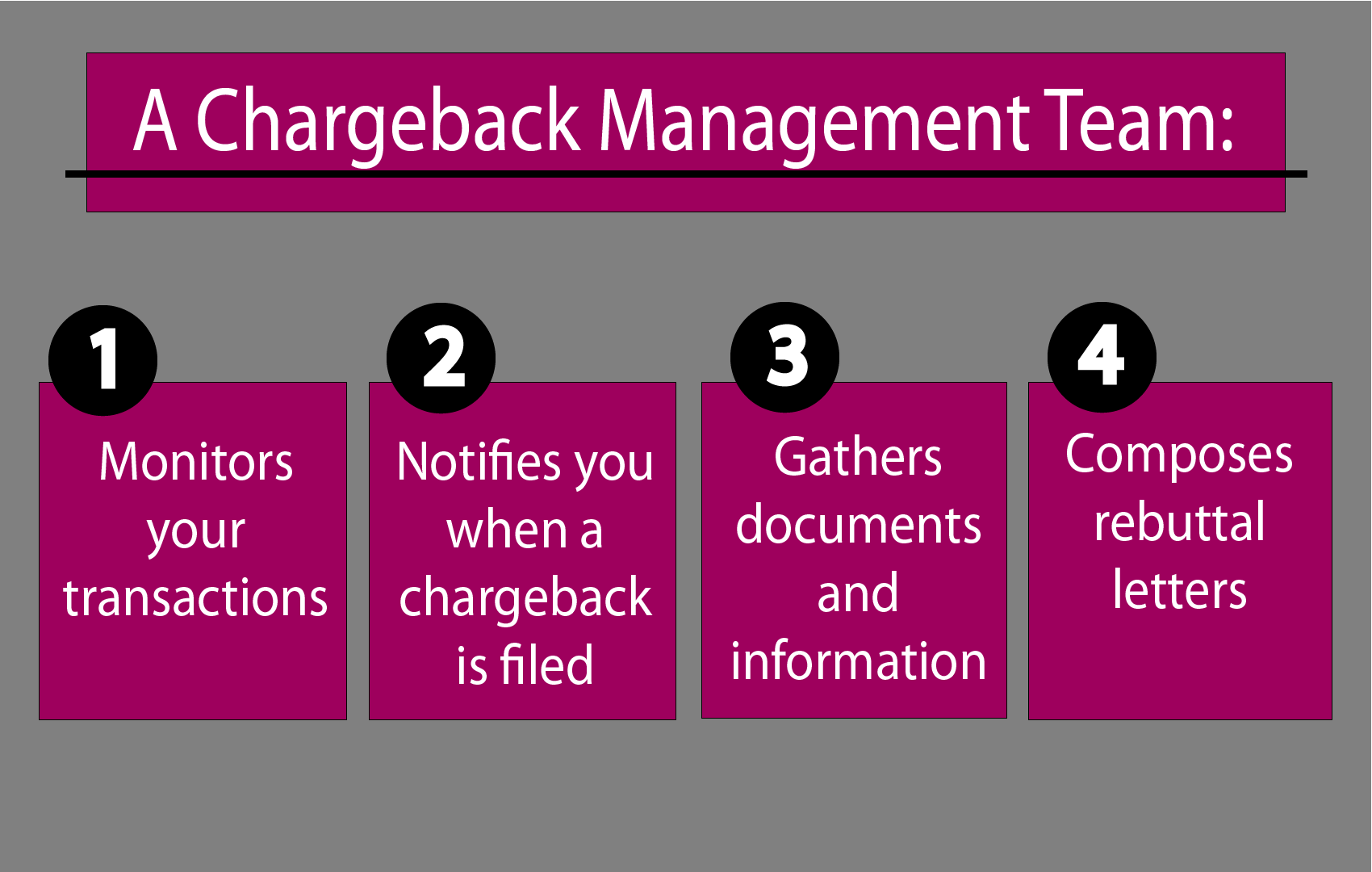 Free, live demos
Good payment processors will be happy to show you a free, live demo. Evaluate for yourself how well their integration works with QuickBooks. You want a seamless processor that simplifies payment acceptance without adding any complications.
If a credit card processor offers you a recorded demo, push for a live demo instead. That way you can ask questions and get deeper explanations on anything that confuses you.
After the demo, if you're satisfied with their pricing and software integration, ask if they will provide demos during the onboarding process. If your processor can walk you and your staff through live demos, it will save you a lot of time and ensure that everyone is in sync with the payment process.
Customer payment portal
As a final suggestion, try to find a payment integration that sets you up with a customer payment portal.
A payment portal gives your customers the freedom to pay invoices online at their convenience. In the busyness of our lives, it can be challenging to find time to write a check or make a phone call to make a payment. Not to mention that as the internet becomes an increasingly popular platform to make payments on, a customer portal increases your chances of receiving payments on time. And who doesn't love the sound of that?
Conclusion
As credit cards continue to rise as the leading method of payment, businesses must be diligent in who they choose to process their card transactions. Intuit's integrated merchant services can seem like the easiest route, but the high processing and per-transaction fees they tack on make even double data entry seem appealing.
Thankfully, now that you know how to select a payment processor for QuickBooks, you don't have to settle for Intuit's native software.
If you have any questions about how integrated solutions work or need help on how to break free from Intuit's high prices, give us a call. One of our QuickBooks specialists will be happy to listen to your concerns and give you practical advice based on your needs.