[fusion_builder_container hundred_percent="no" equal_height_columns="no" hide_on_mobile="small-visibility,medium-visibility,large-visibility" background_position="center center" background_repeat="no-repeat" fade="no" background_parallax="none" parallax_speed="0.3″ video_aspect_ratio="16:9″ video_loop="yes" video_mute="yes" overlay_opacity="0.5″ border_style="solid"][fusion_builder_row][fusion_builder_column type="1_1″ layout="1_1″ background_position="left top" background_color="" border_size="" border_color="" border_style="solid" border_position="all" spacing="yes" background_image="" background_repeat="no-repeat" padding="" margin_top="0px" margin_bottom="0px" class="" id="" animation_type="" animation_speed="0.3″ animation_direction="left" hide_on_mobile="small-visibility,medium-visibility,large-visibility" center_content="no" last="no" min_height="" hover_type="none" link=""][fusion_text]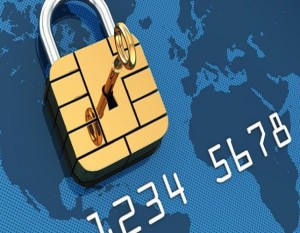 How will the impending migration affect you?
Will the United States be able to take on the EMV chip as a credit card requirement by October 2015?
The Good: EMV chips add an additional level of security to credit cards, significantly reducing the potential for fraud.
EMV chips have the ability to prevent fraud by communicating with special EMV card readers, generating a single-use code for each credit card transaction they're a part of.  This special code, if ever accessed by hackers, is ueseless, as it has nothing to do with an actual credit card number–it's like a token.  Implementing EMV chips on a small scale has already helped reduce credit card fraud somewhat, and that saves business owners not only a great deal of stress, but the added expense of dealing with chargebacks.
The Bad: EMV chips won't do anything to deter card-not-present fraud, and may actually increase it.
Since the EMV chip is a physical characteristic of a card, one that communicates with those special EMV chip readers, online or MOTO businesses won't benefit from the enhancement.  And, as data skimmers and hackers  begin to have a more difficult time in the card-present world, they may very well shift their attention to defrauding online credit card businesses that, simply because of the times, are growing ever more popular.  Businesses that do some card-present and some card-not-present transactions every month may not be so quick to make the switch since they may feel they won't be so adequately protected when all's said and done.
The Good: The fraud liability shift in October 2015 will force people to comply with EMV standards.
The liability shift provides that if a hacker skims credit card information from a business that used a standard mag-stripe-reading terminal, then that business is held liable for any fraud that occurs due to the theft.  Since EMV terminals have the power to significantly cut fraud from card-present transactions, card-present business owners will be much more apt to set aside the resources to make the switch.
The Bad: Replacing all credit cards and card readers is expensive.
Replacing all of a company's credit card terminals and card readers with EMV-equipped terminals can be costly and could delay migration to EMV compliant terminals.
[/fusion_text][/fusion_builder_column][/fusion_builder_row][/fusion_builder_container]