QuickBooks is the leading accounting software for small businesses, with nearly 10 million users and 64.5% of the market share.
With its versatile functions and user-friendly interface, QuickBooks is a powerful accounting tool that allows businesses to manage its finances more efficiently. It's also a convenient way to accept credit cards.
However, the native QuickBooks software limits payment acceptance options and can unnecessarily increase your QuickBooks credit card fees.
With the right strategy and execution, QuickBooks credit card costs can be reduced.
Here are five simple ways to lower your QuickBooks credit card fees and get the most affordable credit card processing for your business.
1. Use a QuickBooks payment integration
A QuickBooks payment integration passes more information through the point of sale. Line-item details and invoice information already stored in QuickBooks are automatically passed to a PCI-compliant payment gateway. This process helps qualify your cards at reduced interchange rates and provides the lowest QuickBooks credit card fees for your business.
A payment integration also eliminates daily tasks that employees used to perform. Since integrated credit card processing can update payments to the General Ledger automatically, there is no longer any need for an employee to manage the Accounts Receivable or reenter transaction data into the accounting software. In addition, it simplifies the payment process and makes it easier to train employees on how to process payments, allowing businesses to save money and time on training.
With a payment integration, you can also enter a credit card payment at more stages in QuickBooks than the native QuickBooks software. Using a payment integration is a great way to simplify payment acceptance, streamline the accounting process, and significantly reduce QuickBooks credit card fees.
2. Choose a PCI-compliant payment gateway
A payment gateway facilitates credit card transactions, linking transaction information between the credit card network and the card issuing bank to authorize the payment. Once approved, the payment gateway passes funds from your customer's credit card into your merchant account.
Since this process deals with sensitive credit card information, it's important to make sure that data is being handled with a PCI-compliant payment gateway. A PCI-compliant payment gateway should meet all PCI specifications set by the Payment Card Industry.

In order to become PCI compliant, you must complete a yearly Self-Assessment Questionnaire (SAQ) and/or pass a quarterly PCI Security Scan.
The SAQ includes a series of questions to help assess PCI compliant security levels, and is divided in categories based on how a business processes credit cards.
Use the chart below to learn more about the different SAQ types.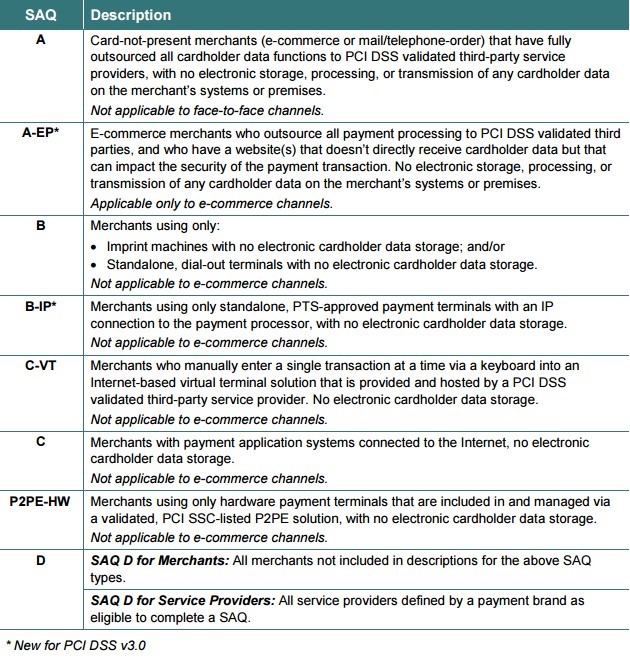 A payment gateway that is not PCI-compliant could result in severe data breaches and cause thousands of dollars in credit card fraud.
Processing with a PCI-compliant payment gateway minimizes security risks and protects your business from hefty fines. In fact, not being PCI-compliant could cost your business as much as $500,000 per month in fees. (Source)
3. Select a flat rate pricing option
In order to get the lowest QuickBooks credit card fees, look for a payment provider that offers flat rate pricing.
Flat rate pricing guarantees one flat rate no matter what. You'll know in advance exactly what your processing fees will be without any surprises.  With flat rate pricing, your business will receive one simple statement each month with a predictable rate. Choose this plan to get an affordable rate while also being less involved in monitoring your transactions.
Stay away from any provider that offers a tiered pricing option. Tiered pricing will increase your processing rates. With tiered pricing, processors typically offer a "qualified rate" which is very low, but can hide their margin behind a much higher "non-qualified" rate.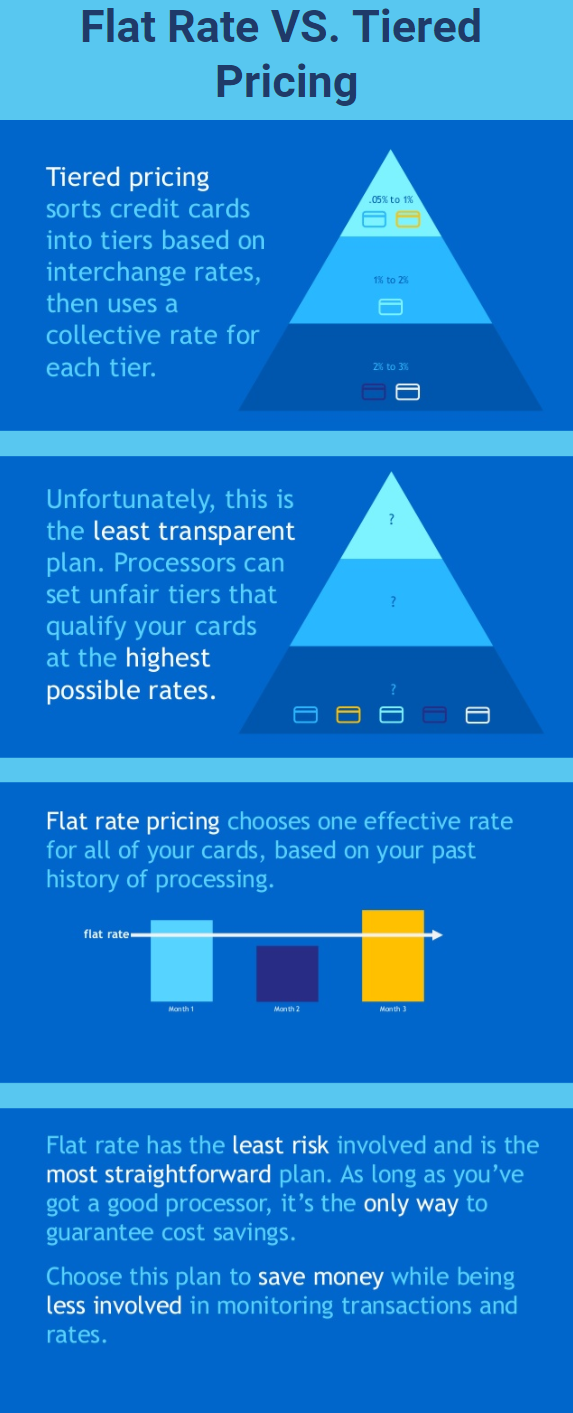 With flat rate pricing, you can process credit cards in QuickBooks at the same low rate each month without having to pay any additional transaction fees.
4. Watch out for hidden fees
Unfortunately, many processors don't have their clients' best interest in mind. Some processors will try to conceal hidden fees into your contact and hope you don't find them. Read your statements and contracts carefully and choose a provider that will grow with your business, not take advantage of you.
A processor should be transparent with nothing to hide. Some important features to look for include: $0 setup fees, $0 upgrade fees, $0 maintenance fees, no early termination fees, free in-house customers support, and an experienced chargeback management team.
5. Get 24/7 customer support
As a business owner, you've probably heard the saying 'time is money'. You can't afford to spend hours on hold while you wait for support to solve your problem. You need answers quickly.
If you have an angry customer calling you on a Saturday morning, demanding to know why their card was charged or why their payment didn't go through, you want your processor to be available.
In fact, 91% of unhappy customers will not willingly do business with you again. (Source)

Look for a provider that offers 24/7, in-house customer support so you can get the help you need at any time. You'll have the privilege of speaking to a live representative who can process your inquiries and quickly resolve any issues with your services. You should also know your relationship manager and be able to contact them directly with any questions regarding your account. Personalized support can help guarantee the lowest QuickBooks credit card fees for your business.
QuickBooks credit card fees are a necessary evil for many small businesses. Without the right strategy, they can add up and take away from your bottom line. Fortunately, these five techniques can simplify payment acceptance and make it more affordable to process credit cards in QuickBooks.