[fusion_builder_container hundred_percent="no" equal_height_columns="no" hide_on_mobile="small-visibility,medium-visibility,large-visibility" background_position="center center" background_repeat="no-repeat" fade="no" background_parallax="none" parallax_speed="0.3″ video_aspect_ratio="16:9″ video_loop="yes" video_mute="yes" border_style="solid"][fusion_builder_row][fusion_builder_column type="1_1″ layout="1_1″ background_position="left top" background_color="" border_size="" border_color="" border_style="solid" border_position="all" spacing="yes" background_image="" background_repeat="no-repeat" padding="" margin_top="0px" margin_bottom="0px" class="" id="" animation_type="" animation_speed="0.3″ animation_direction="left" hide_on_mobile="small-visibility,medium-visibility,large-visibility" center_content="no" last="no" min_height="" hover_type="none" link=""][fusion_text]
EMV's fast approaching, and it's time to bring your A-game to the field.  Are you ready to take on some fraud liability?
It probably sounds to you like I'm taking EMV a little too seriously.  Well, trust me when I say it's to make up for the utter lack of feeling everyone else seems to have about it.  The liability shift for EMV happens at the stroke of October this year, which means starting in October, merchants who accept card-present transactions without an EMV card-reading terminal will be held liable for fraudulent transactions if those transactions are performed with EMV-capable credit cards.
Banks and other card issuers are definitely doing their part.  But, largely, merchants are not.
You don't have to be part of the herd on this one.  Actually, I would advise that you go against the herd, cough up the $200, and just buy an EMV terminal if you already accept card-present transactions.  (Otherwise, if you accept lots of card-not-present transactions, you're better off with a virtual gateway.)  Sure, there are pros and cons of the EMV shift itself.  But, the pros far outweigh the cons if you're a merchant that does his transactions face to face.
But, if you're reading this, you're probably not all that familiar with EMV and the special credit cards that came out of the movement at all.
Other than the aforementioned liability shift, here's what's going on: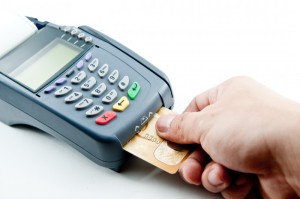 EMV is Security
Those EMV chips you see on new credit cards are actually microprocessors.  Whereas a standard magnetic credit card reader reads a credit card number and expiration date and passes it to a merchant, the microprocessor on an EMV-enabled credit card communicates with a special card reader, providing a unique transaction ID.
Because of the dynamic nature of the data transmission, EMV credit card transactions are much, much harder to duplicate than standard credit card transactions.  The USA is a little late to the party on this one, as Europe adopted EMV and saw a huge reduction in fraud in 2012.
Who Does EMV Affect?
If you accept card-present transactions at all, this affects you.  Whenever you swipe a physical EMV credit card through a standard card reader, you're liable for that transaction if it turns out to be a bad one – that is, beginning in October.  The fact that you only accept a couple of physical credit card transactions per month doesn't absolve you from liability – and, in fact, some merchants may even realize your ignorance and target you for fraud for that very reason.  Don't subject yourself to this.
Who DOESN'T EMV Affect?
The EMV liability shift does not affect merchants who accept card-not-present transactions.  As EMV is a physical card characteristic, merchants who only enter card numbers into their terminal, gateway, or accounting system plugin won't reap the benefits of EMV technology.

Famous Last Words?
This is meant to hit you a little hard.  Credit card fraud is no laughing matter, especially when you're on the receiving end of it.  If you accept physical credit cards at all, make a $200 investment in an EMV credit card terminal.  It's a small investment to make compared to, I don't know, your entire business.
[/fusion_text][/fusion_builder_column][/fusion_builder_row][/fusion_builder_container]