The eCommerce industry is rapidly becoming one of the highest growing markets with enormous potential for the future. According to Grand View Research, global eCommerce is predicted to increase at a CAGR of 14.7% from 2020 to 2027.
Such phenomenal growth wouldn't be possible without merchants having access to reliable gateways. Therefore, finding the right eCommerce payment gateway for your eCommerce business is essential for your success.
Without an efficient online payment collection process, businesses can lose customers' trust, diminish brand reputation, and drive away prospective clients. An unreliable payment gateway can also lead to hefty transaction costs for your eCommerce store, resulting in less profit.
Now that you know the importance of choosing the right payment gateway for your eCommerce business, you can thoroughly assess each provider to make the most well-informed decision.
Here are 9 factors to consider when selecting a payment gateway for your eCommerce business…
Deciding between hosted vs. non-hosted payments
When online merchants incorporate a payment gateway into their eCommerce store, they can choose from a hosted or non-hosted payment gateway.
With hosted payment gateways, customers are sent to the payment processor's website to input their payment information before being redirected back to the merchant's store to checkout.
Hosted payments allow merchants to avoid spending time and expenses on implementing security protocols and features to protect sensitive payment data on their eCommerce store.
Whereas, non-hosted payment gateways prompt customers to enter their sensitive card information without leaving the merchant's eCommerce store.
Non-hosted payments provide a more convenient experience for the consumer while putting the burden on merchants to ensure their security effectively protects customers' sensitive card data.
Since PCI Compliance is mandatory, it's important for eCommerce businesses to know if they're using a hosted or non-hosted payment gateway to determine what level of security they need to apply to their online storefront.
Leverage a digital adoption platform
Finding the right online payment gateway for your eCommerce business can be made easier by leveraging a digital adoption platform (DAP).
Digital adoption platforms will help your team learn about new technology and improve employee adoption of software tools which can be beneficial when implementing a payment gateway into your eCommerce business.
Online merchants can use AppLearn or any of the top AppLearn alternatives to ensure successful digital adoption.
Apply a seamless integration into your eCommerce store
Integrating a payment solution into your eCommerce store should be quick and easy. Therefore, it's best to find a payment gateway that doesn't interfere with or hinder your overall payment experience.
eCommerce platforms like WooCommerce, Shopify, and Magento are some of the most trusted names for simplifying payment gateway integration for online businesses.
After choosing an eCommerce storefront, businesses can pair powerful integrations with these platforms to accelerate and enhance their payment collection process.
Find a compliant eCommerce payment gateway
Payment gateways should not only protect data for both merchants and consumers but they should also fulfill regulatory standards.
Therefore, it's crucial to get acquainted with the Payment Card Industry Data Security Standard (PCI DSS) requirements to verify which payment gateways are compliant.
eCommerce merchants that sell products and services to European consumers must also be in compliance with the General Data Protection Regulation (GDPR) passed by the European Union.
The GDPR provides a set of guidelines that eCommerce businesses must follow to protect the privacy rights of individuals and their data. This means payment gateways and businesses that process European transactions must be open and honest about the data they collect and transmit.
PCI- and GDPR-compliant payment gateways help online merchants avoid the hassle of incorporating security measures to meet these requirements while also solidifying a more secure payment experience for consumers.
Look for a payment processor with 24/7 customer support
As an eCommerce business, you also need to factor in the level of customer support payment gateway providers offer.
When payment processors provide little to no support, merchants will likely dedicate extra time and resources to reading user guides and resolving issues on their own.
eCommerce businesses can avoid support issues by selecting payment gateway providers that offer live technical assistance during their business hours.
To ensure the most efficient payment collections, merchants can work with payment processors that provide 24/7 phone or chat support to tackle critical issues.
Fully understand the pricing and fees associated with gateways
Pricing is one of the biggest factors for eCommerce businesses when deciding which payment gateway to work with.
Processing fees are generally broken down into four categories:
Flat rate pricing
Interchange pricing
Tiered pricing
Subscription-based pricing
Merchants can review each to determine the pricing structure that's most attainable for their eCommerce store.
While most payment gateways' costs revolve around transactions, some charge additional fees for initial setup, PCI compliance, service, and more. eCommerce businesses should evaluate each provider's pricing and processing fees to find the best fit for their business model.
Pricing and fees can also vary based on your transaction volumes, business goals, payment methods, the cards you accept, and more.
Some payment gateway providers may require you to meet a monthly processing minimum. If your transaction volume falls below this set threshold, you may be charged an additional fee.
Merchants should also calculate their monthly revenue to understand how much their eCommerce store brings in regularly to be realistic about their current financial standing and long-term goals.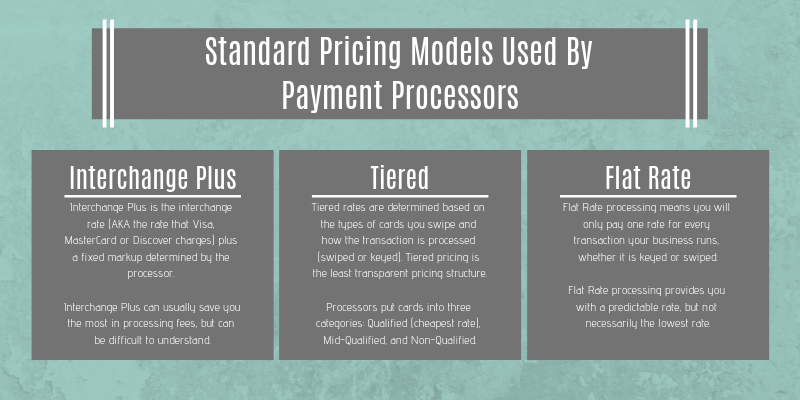 Focus on accelerating the online checkout process for your customers
The speed at which funds move from a customer's bank account to yours can greatly impact your cash flow — it's regarded as one of the distinguishing qualities of providing an end-to-end solution.
If consumers get stuck trying to complete their online payments or the checkout process takes too long, they're more likely to abandon their cart. Therefore, a reliable payment gateway will play a crucial role in accelerating the checkout process to encourage new and return purchases.
After thoroughly assessing the payment settlement duration, eCommerce businesses can choose a payment gateway that ensures a more seamless cash flow. Quicker payment collections can also help merchants better manage refunds and chargebacks.
Lastly, online businesses can look into eCommerce payment gateways that provide cloud technology to improve operational efficiency with better workflow for business users and higher processing speeds.
Factor in scalability
As your online business expands, your payment gateway should be able to scale to meet your needs and handle your cash flow accordingly.
Generally, the eCommerce payment gateways with the most scalability will:
Accept a variety of payment methods and card types
Continuously update their software and add new features/capabilities
Keep up with market trends and adapt accordingly
A good rule of thumb when shopping for a scalable eCommerce payment gateway is to assess its growth over the years. If a payment processor hasn't updated its software, added new capabilities, or expanded its user base, it's probably safe to assume it won't support merchants looking to scale their own businesses.
Check for multiple currency support
A payment gateway that only accepts one or two currencies will likely not be able to support a global eCommerce business.
Merchants should factor in the scope of their growth and determine if they're planning to extend their business to different countries. This will require an eCommerce payment gateway that accepts currencies worldwide.
Conduct a thorough analysis to choose the best payment gateway for your eCommerce business
When choosing the best payment gateway for your eCommerce store, it's necessary to consider your needs, as well as your consumers.
Merchants should do their due diligence by thoroughly researching, reading online reviews and user forums, and evaluating how long the vendor has been in business and their growth during this time frame. This will allow you to gauge how reliable each payment processor is and avoid implementing faulty software.
Realistically evaluating if a payment gateway can seamlessly integrate into your business while also being cost-effective and keeping your customers happy, will help you determine the best provider for your eCommerce business.