[fusion_builder_container hundred_percent="no" equal_height_columns="no" hide_on_mobile="small-visibility,medium-visibility,large-visibility" background_position="center center" background_repeat="no-repeat" fade="no" background_parallax="none" parallax_speed="0.3″ video_aspect_ratio="16:9″ video_loop="yes" video_mute="yes" overlay_opacity="0.5″ border_style="solid"][fusion_builder_row][fusion_builder_column type="1_1″ layout="1_1″ background_position="left top" background_color="" border_size="" border_color="" border_style="solid" border_position="all" spacing="yes" background_image="" background_repeat="no-repeat" padding="" margin_top="0px" margin_bottom="0px" class="" id="" animation_type="" animation_speed="0.3″ animation_direction="left" hide_on_mobile="small-visibility,medium-visibility,large-visibility" center_content="no" last="no" min_height="" hover_type="none" link=""][fusion_text]
 
To say we're living in a changing environment in the payments world would be an understatement.  In the world of payment processing, mobile payments are officially the hottest thing since Death Valley, narrowly edging out EMV, which at this point is more like the giant elephant in the room.  Mobile payments, especially mobile wallets, on the other hand, are nice-looking, futuristic, and—especially when applied to in-store payments—very convenient.  Everyone's trying to get a piece of the pie, but a couple of companies are edging out the competition by a giant margin thus far.  Observe the results of this survey from CashStar and Digital Resource Inc (DRI):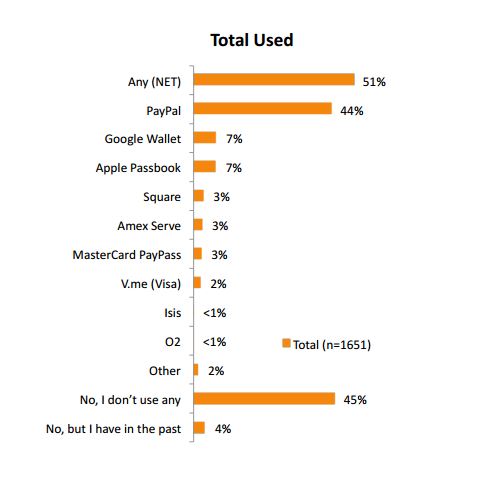 Apple and Google are the ones constantly in the news for their newer digital wallets, but PayPal comfortably holds an enormous piece of the market share (for the sample of participants, anyway).  And, relatively speaking, Square and the other mobile wallets aren't far behind.  However, we also can't miss the fact that only about half the survey participants used a mobile wallet at all.
Payment Security is the Most Important Factor Here
The survey went in a little deeper, probing into why non-mobile wallet users weren't keen on picking one up: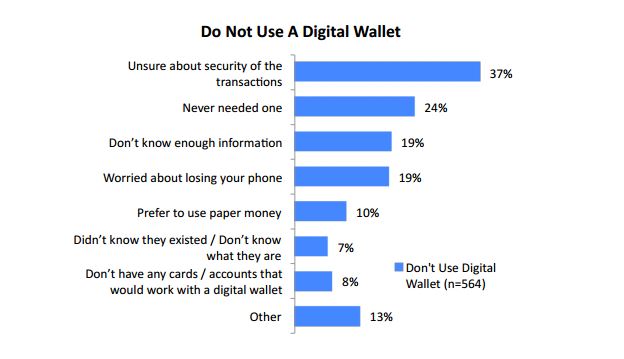 As we've gone into before in this blog, security is a big deal to consumers, especially in the wake of those darned data breaches.  It's an unfortunate irony, then, that the digital wallet's biggest perceived weakness is actually its biggest strength.  Big guys like Apple and Google especially know they'd never survive on just looks alone—they both employ an advanced form of security: Apple uses a photo recognition system and Google uses tokenization.
In spite of the handful of obstacles in the way of the digital wallet's ultimate success, the survey also concluded that 36% of participants did use a mobile wallet for in-store purchases, and 10% did it as often as once a week: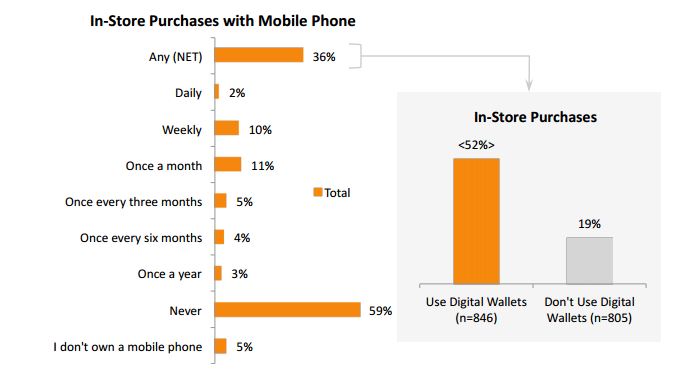 This tells me that there's hope for this technology, especially given that it's so new in the grand scheme of things.
What's the Future of Apple Pay, Particularly?
Apple Pay is important to think about on its own, because, well, it's from Apple.  As the most recognized brand in the world, anything this company touches is either pure gold or otherwise creates such a stir that it's regarded as gold by anyone else for the publicity alone.
Though there have been a few hiccups since its deployment, experts seem to agree Apple Pay is going to make a splash this year now that it has a little time in the world under its belt.  It's reportedly going to make an appearance in a major TV show this year, and a recent internship posting relating to overseeing non-disclosure agreements with European partners indicate it's probably going to branch out to Europe as well.  Furthermore, the development of Apple Watch will likely further propel the digital wallet's success by offering consumers yet another, even sleeker way to pay for products.  If Apple Pay does end up a colossal failure, it won't be for lack of visibility or payment options.
So, What Can We Expect?
Lots of things in this world are regarded as the next big thing  for a short while before they go up in smoke.  The difference between mobile payments—and digital wallets in particular—is that they're relevant to just about everyone except the small percentage of the population that goes without a cellphone.  Everyone has to buy things, and nearly everyone has a cellphone; increasingly, those cellphones are smartphones which are mobile payment-compatible.  Furthermore, every young person who picks up a cellphone for the first time today is unerringly indoctrinated into the smartphone age, and as older members of our population die and leave their habits behind, younger people—without their fears of mobile payments—will take their place.  And, knowing no other way, they will embrace mobile payments without any of the fear their predecessors had.  But, more important than the fact that everyone will be exposed to it is the fact that mobile payments are just easy.  Everything's on your phone!  If it were any easier to use, they'd have an Apple rep planting a barcode on your wrist.  And, not to be overshadowed, tokenization and other security features will eventually become more widely known, and digital wallet companies will be lauded for including the technology.
Mobile payments are going to be the next big thing.  It won't happen this year, but it will certainly start this year and continue for every year thereafter until paying for goods on your phone, especially inside a store, is as normal as driving a car instead of riding a horse to work.
[/fusion_text][/fusion_builder_column][/fusion_builder_row][/fusion_builder_container]