[fusion_builder_container hundred_percent="no" hundred_percent_height="no" hundred_percent_height_scroll="no" hundred_percent_height_center_content="yes" equal_height_columns="no" menu_anchor="" hide_on_mobile="small-visibility,medium-visibility,large-visibility" status="published" publish_date="" class="" id="" link_color="" link_hover_color="" border_size="" border_color="" border_style="solid" margin_top="" margin_bottom="" padding_top="" padding_right="" padding_bottom="" padding_left="" gradient_start_color="" gradient_end_color="" gradient_start_position="0″ gradient_end_position="100″ gradient_type="linear" radial_direction="center center" linear_angle="180″ background_color="" background_image="" background_position="center center" background_repeat="no-repeat" fade="no" background_parallax="none" enable_mobile="no" parallax_speed="0.3″ background_blend_mode="none" video_mp4="" video_webm="" video_ogv="" video_url="" video_aspect_ratio="16:9″ video_loop="yes" video_mute="yes" video_preview_image="" filter_hue="0″ filter_saturation="100″ filter_brightness="100″ filter_contrast="100″ filter_invert="0″ filter_sepia="0″ filter_opacity="100″ filter_blur="0″ filter_hue_hover="0″ filter_saturation_hover="100″ filter_brightness_hover="100″ filter_contrast_hover="100″ filter_invert_hover="0″ filter_sepia_hover="0″ filter_opacity_hover="100″ filter_blur_hover="0″ admin_label="Title" admin_toggled="yes"][fusion_builder_row][fusion_builder_column type="1_1″ layout="1_1″ spacing="" center_content="no" link="" target="_self" min_height="" hide_on_mobile="small-visibility,medium-visibility,large-visibility" class="" id="" background_image_id="" hover_type="none" border_size="0″ border_color="" border_style="solid" border_position="all" border_radius_top_left="" border_radius_top_right="" border_radius_bottom_right="" border_radius_bottom_left="" box_shadow="no" box_shadow_vertical="" box_shadow_horizontal="" box_shadow_blur="0″ box_shadow_spread="0″ box_shadow_color="" box_shadow_style="" padding_top="" padding_right="" padding_bottom="" padding_left="" margin_top="0px" margin_bottom="0px" background_type="single" gradient_start_color="" gradient_end_color="" gradient_start_position="0″ gradient_end_position="100″ gradient_type="linear" radial_direction="center center" linear_angle="180″ background_color="" background_image="" background_position="left top" background_repeat="no-repeat" background_blend_mode="none" animation_type="" animation_direction="left" animation_speed="0.3″ animation_offset="" filter_type="regular" filter_hue="0″ filter_saturation="100″ filter_brightness="100″ filter_contrast="100″ filter_invert="0″ filter_sepia="0″ filter_opacity="100″ filter_blur="0″ filter_hue_hover="0″ filter_saturation_hover="100″ filter_brightness_hover="100″ filter_contrast_hover="100″ filter_invert_hover="0″ filter_sepia_hover="0″ filter_opacity_hover="100″ filter_blur_hover="0″ last="no"][fusion_text columns="" column_min_width="" column_spacing="" rule_style="default" rule_size="" rule_color="" hide_on_mobile="small-visibility,medium-visibility,large-visibility" class="" id="" animation_type="" animation_direction="left" animation_speed="0.3″ animation_offset=""]
by Marketing Department October 24, 2013
[/fusion_text][fusion_text columns="" column_min_width="" column_spacing="" rule_style="default" rule_size="" rule_color="" hide_on_mobile="small-visibility,medium-visibility,large-visibility" class="" id="" animation_type="" animation_direction="left" animation_speed="0.3″ animation_offset=""]
Last Updated: November 5, 2020
[/fusion_text][/fusion_builder_column][/fusion_builder_row][/fusion_builder_container][fusion_builder_container hundred_percent="no" hundred_percent_height="no" hundred_percent_height_scroll="no" hundred_percent_height_center_content="yes" equal_height_columns="no" menu_anchor="" hide_on_mobile="small-visibility,medium-visibility,large-visibility" status="published" publish_date="" class="" id="" link_color="" link_hover_color="" border_size="" border_color="" border_style="solid" margin_top="" margin_bottom="" padding_top="" padding_right="" padding_bottom="" padding_left="" gradient_start_color="" gradient_end_color="" gradient_start_position="0″ gradient_end_position="100″ gradient_type="linear" radial_direction="center center" linear_angle="180″ background_color="" background_image="" background_position="center center" background_repeat="no-repeat" fade="no" background_parallax="none" enable_mobile="no" parallax_speed="0.3″ background_blend_mode="none" video_mp4="" video_webm="" video_ogv="" video_url="" video_aspect_ratio="16:9″ video_loop="yes" video_mute="yes" video_preview_image="" filter_hue="0″ filter_saturation="100″ filter_brightness="100″ filter_contrast="100″ filter_invert="0″ filter_sepia="0″ filter_opacity="100″ filter_blur="0″ filter_hue_hover="0″ filter_saturation_hover="100″ filter_brightness_hover="100″ filter_contrast_hover="100″ filter_invert_hover="0″ filter_sepia_hover="0″ filter_opacity_hover="100″ filter_blur_hover="0″ admin_label="Main Content" admin_toggled="no"][fusion_builder_row][fusion_builder_column type="1_1″ layout="1_1″ spacing="" center_content="no" link="" target="_self" min_height="" hide_on_mobile="small-visibility,medium-visibility,large-visibility" class="" id="" background_image_id="" hover_type="none" border_size="0″ border_color="" border_style="solid" border_position="all" border_radius_top_left="" border_radius_top_right="" border_radius_bottom_right="" border_radius_bottom_left="" box_shadow="no" box_shadow_vertical="" box_shadow_horizontal="" box_shadow_blur="0″ box_shadow_spread="0″ box_shadow_color="" box_shadow_style="" padding_top="" padding_right="" padding_bottom="" padding_left="" margin_top="0px" margin_bottom="0px" background_type="single" gradient_start_color="" gradient_end_color="" gradient_start_position="0″ gradient_end_position="100″ gradient_type="linear" radial_direction="center center" linear_angle="180″ background_color="" background_image="" background_position="left top" background_repeat="no-repeat" background_blend_mode="none" animation_type="" animation_direction="left" animation_speed="0.3″ animation_offset="" filter_type="regular" filter_hue="0″ filter_saturation="100″ filter_brightness="100″ filter_contrast="100″ filter_invert="0″ filter_sepia="0″ filter_opacity="100″ filter_blur="0″ filter_hue_hover="0″ filter_saturation_hover="100″ filter_brightness_hover="100″ filter_contrast_hover="100″ filter_invert_hover="0″ filter_sepia_hover="0″ filter_opacity_hover="100″ filter_blur_hover="0″ last="no"][fusion_text columns="" column_min_width="" column_spacing="" rule_style="default" rule_size="" rule_color="" hide_on_mobile="small-visibility,medium-visibility,large-visibility" class="" id="" animation_type="" animation_direction="left" animation_speed="0.3″ animation_offset=""]
iPhone credit card processing is a great alternative to portable credit card terminals because transactions can now be processed over 3G, 4G or wireless connections. They do this by either manually entering card numbers, or swiping cards directly with additional hardware. This mobile payment solution can be provided through your merchant account services provider.
iPhone Credit Card Processing Advantage
This method has the advantage of portability, as you can process transactions anywhere you have phone reception and requires less hardware to purchase. Also, processing through mobile devices that are offered through merchant services companies can keep your fees low compared to other on the go mobile payment devices such as Square.
Vendors will often include a processing method, factored into the cost of the product, while the applications will work with your credit card processing services.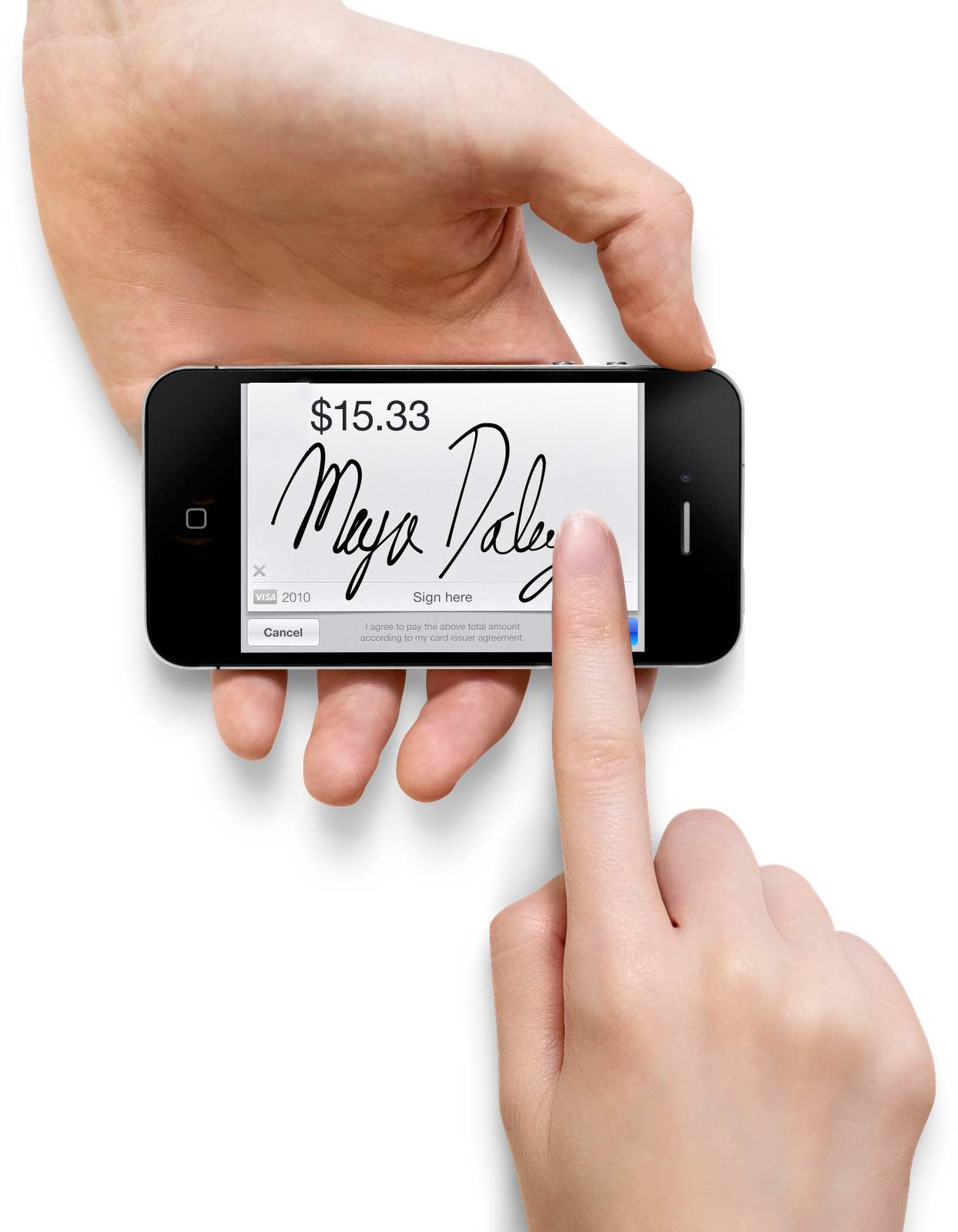 Accepting Credit Cards with iPhone
Whether you want to take credit cards in a permanent physical location or your business is on the go, you can consider iPhone credit card processing. You have the option to swipe credit cards and print receipts, but with the benefit of immobilizing if your business is on-the-go.
You could do both with a credit card terminal, or use separate swipe hardware and a receipt printer.You may also want to add up a number of items and calculate taxes, which terminals typically won't do.
If you often sell a number of items to one person, you may want a price scanner and a display pole (the small screen that displays what you're ringing up to the customer).
With so many options, how do you decide which iPhone credit card processing solution will work for you? Think through the following considerations:
Will you have access to the physical credit card?
Having cards in hand will save you time. For any volume, you'll want a method that will allow you to swipe the card rather than typing in numbers, and to print a receipt.
Does the transaction need to be stored in your constituent management system?
Processing donations or membership renewals that need to be tracked in another piece of software means integration should be a key concern. Payment-enabled software, an online payment processing solution, or a point of sale setup can help.
Is this a short-term, low-volume need, or a permanent high-volume setup?
The right hardware and integration with other systems can be a big time-saver, but they require some initial upfront investment. Does it really makes sense to use a quick and dirty method like an imprinter or virtual terminal, or will investing in a more efficient solution save money in the long run?
Do you need to store credit card numbers?
Doing so in any format requires strict and specific security measures under PCI requirements, and unless you have a thorough understanding of the regulations and have spent the time and money to create a system that is in compliance, you'll want to use a payment processor to handle recurring transactions.
What will your constituents expect?
Don't forget this important consideration. Be careful of methods that require you to gather someone's life story in order to run a simple payment, or require your staff to go through strange and time-consuming machinations with a constituent standing in front of them.
It can be complicated to understand your options in iPhone credit card processing. Many of the methods themselves are actually quite straightforward, however, and every organization should be able to find one that's suitable. Whether you're taking donations, registering members or attendees, selling T-shirts, or running a complex retail organization, there's a method that will allow you to take credit cards straightforwardly and securely.
3 Steps of iPhone Credit Card Processing
Weighing your options for iPhone credit card processing requires a basic understanding of how credit card acceptance works. The multiple steps are complex, and can involve a number of different vendors and entities.
Collect and enter credit card information
In order to process a payment with iPhone credit card processing, you will first need to collect the credit card information from the person making the payment and transfer it – either electronically or manually – to a service that can process it. This step is made right from a mobile device through a mobile payment solution.
Authorize and commit the charge
Once the payment information is entered, it is transferred electronically to a payment processor that authorizes it by checking to see that the credit card account exists and has enough money to cover the charge. The payment processor then charges the card. Whichever method you use, you'll have some kind of processing specialist in the mix who will manage the electronic flow of money for credit card transactions, who works hand-in-hand with another system that provides the interface to enter information and handles any other needed functionality.
Deposit money to bank account
Once the card has been charged, there's a critical step: receiving the money. The payment processor always deposits the money in the merchant account. Money is then automatically transferred from your merchant account into a bank account from which you can actually withdraw it.
In order to begin iPhone credit card processing, you'll need to open a merchant account your payment processor. Like any bank account, you'll want to shop around, as rates vary. These accounts define the base amount you'll pay for each transaction. Because credit card companies also charge a per-transaction fee, there will always be some fee involved, but the size and terms can vary substantially. If you want to accept mobile payments, make sure your merchant account allows them. You might want to choose an online payment vendor first and ask them for recommendations for a merchant account bank to make sure it's compatible with iPhone credit card processing.
[/fusion_text][/fusion_builder_column][/fusion_builder_row][/fusion_builder_container][fusion_builder_container hundred_percent="no" hundred_percent_height="no" hundred_percent_height_scroll="no" hundred_percent_height_center_content="yes" equal_height_columns="no" menu_anchor="" hide_on_mobile="small-visibility,medium-visibility,large-visibility" status="published" publish_date="" class="" id="" link_color="" link_hover_color="" border_size="" border_color="" border_style="solid" margin_top="" margin_bottom="" padding_top="" padding_right="" padding_bottom="" padding_left="" gradient_start_color="" gradient_end_color="" gradient_start_position="0″ gradient_end_position="100″ gradient_type="linear" radial_direction="center center" linear_angle="180″ background_color="" background_image="" background_position="center center" background_repeat="no-repeat" fade="no" background_parallax="none" enable_mobile="no" parallax_speed="0.3″ background_blend_mode="none" video_mp4="" video_webm="" video_ogv="" video_url="" video_aspect_ratio="16:9″ video_loop="yes" video_mute="yes" video_preview_image="" filter_hue="0″ filter_saturation="100″ filter_brightness="100″ filter_contrast="100″ filter_invert="0″ filter_sepia="0″ filter_opacity="100″ filter_blur="0″ filter_hue_hover="0″ filter_saturation_hover="100″ filter_brightness_hover="100″ filter_contrast_hover="100″ filter_invert_hover="0″ filter_sepia_hover="0″ filter_opacity_hover="100″ filter_blur_hover="0″ admin_label="Subscription" admin_toggled="yes"][fusion_builder_row][fusion_builder_column type="1_1″ layout="1_1″ spacing="" center_content="no" link="" target="_self" min_height="" hide_on_mobile="small-visibility,medium-visibility,large-visibility" class="" id="" background_image_id="" hover_type="none" border_size="0″ border_color="" border_style="solid" border_position="all" border_radius_top_left="" border_radius_top_right="" border_radius_bottom_right="" border_radius_bottom_left="" box_shadow="no" box_shadow_vertical="" box_shadow_horizontal="" box_shadow_blur="0″ box_shadow_spread="0″ box_shadow_color="" box_shadow_style="" padding_top="" padding_right="" padding_bottom="" padding_left="" margin_top="0px" margin_bottom="0px" background_type="single" gradient_start_color="" gradient_end_color="" gradient_start_position="0″ gradient_end_position="100″ gradient_type="linear" radial_direction="center center" linear_angle="180″ background_color="" background_image="" background_position="left top" background_repeat="no-repeat" background_blend_mode="none" animation_type="" animation_direction="left" animation_speed="0.3″ animation_offset="" filter_type="regular" filter_hue="0″ filter_saturation="100″ filter_brightness="100″ filter_contrast="100″ filter_invert="0″ filter_sepia="0″ filter_opacity="100″ filter_blur="0″ filter_hue_hover="0″ filter_saturation_hover="100″ filter_brightness_hover="100″ filter_contrast_hover="100″ filter_invert_hover="0″ filter_sepia_hover="0″ filter_opacity_hover="100″ filter_blur_hover="0″ last="no"][fusion_separator style_type="single solid" hide_on_mobile="small-visibility,medium-visibility,large-visibility" class="" id="" sep_color="#ee2a24″ top_margin="60px" bottom_margin="" border_size="5″ icon="" icon_size="" icon_circle="" icon_circle_color="" width="120px" alignment="left" /][fusion_text columns="" column_min_width="" column_spacing="" rule_style="default" rule_size="" rule_color="" hide_on_mobile="small-visibility,medium-visibility,large-visibility" class="" id="" animation_type="" animation_direction="left" animation_speed="0.3″ animation_offset=""]
Subscribe for more content like this
[/fusion_text][fusion_text columns="" column_min_width="" column_spacing="" rule_style="default" rule_size="" rule_color="" hide_on_mobile="small-visibility,medium-visibility,large-visibility" class="" id="" animation_type="" animation_direction="left" animation_speed="0.3″ animation_offset=""]Get the latest updates and trends in the world of business.[/fusion_text][/fusion_builder_column][fusion_builder_column type="1_1″ layout="1_1″ spacing="" center_content="no" link="" target="_self" min_height="" hide_on_mobile="small-visibility,medium-visibility,large-visibility" class="" id="" background_image_id="" hover_type="none" border_size="0″ border_color="" border_style="solid" border_position="all" border_radius_top_left="" border_radius_top_right="" border_radius_bottom_right="" border_radius_bottom_left="" box_shadow="no" box_shadow_vertical="" box_shadow_horizontal="" box_shadow_blur="0″ box_shadow_spread="0″ box_shadow_color="" box_shadow_style="" padding_top="" padding_right="" padding_bottom="" padding_left="" margin_top="0px" margin_bottom="0px" background_type="single" gradient_start_color="" gradient_end_color="" gradient_start_position="0″ gradient_end_position="100″ gradient_type="linear" radial_direction="center center" linear_angle="180″ background_color="" background_image="" background_position="left top" background_repeat="no-repeat" background_blend_mode="none" animation_type="" animation_direction="left" animation_speed="0.3″ animation_offset="" filter_type="regular" filter_hue="0″ filter_saturation="100″ filter_brightness="100″ filter_contrast="100″ filter_invert="0″ filter_sepia="0″ filter_opacity="100″ filter_blur="0″ filter_hue_hover="0″ filter_saturation_hover="100″ filter_brightness_hover="100″ filter_contrast_hover="100″ filter_invert_hover="0″ filter_sepia_hover="0″ filter_opacity_hover="100″ filter_blur_hover="0″ last="no"][fusion_code]PGlmcmFtZSBzcmM9Imh0dHBzOi8vZ28ucGFyZG90LmNvbS9sLzY1OTcyMy8yMDIwLTEwLTIyLzI3N3J6IiB3aWR0aD0iMTAwJSIgaGVpZ2h0PSIxMjBweCIgdHlwZT0idGV4dC9odG1sIiBmcmFtZWJvcmRlcj0iMCIgYWxsb3dUcmFuc3BhcmVuY3k9InRydWUiIHN0eWxlPSJib3JkZXI6IDAiPjwvaWZyYW1lPg==[/fusion_code][fusion_separator style_type="none" hide_on_mobile="small-visibility,medium-visibility,large-visibility" class="" id="" sep_color="" top_margin="" bottom_margin="100px" border_size="0″ icon="" icon_size="" icon_circle="" icon_circle_color="" width="" alignment="center" /][/fusion_builder_column][/fusion_builder_row][/fusion_builder_container][fusion_builder_container hundred_percent="no" hundred_percent_height="no" hundred_percent_height_scroll="no" hundred_percent_height_center_content="yes" equal_height_columns="no" menu_anchor="" hide_on_mobile="small-visibility,medium-visibility,large-visibility" status="published" publish_date="" class="shares" id="" link_color="" link_hover_color="" border_size="" border_color="" border_style="solid" margin_top="" margin_bottom="" padding_top="" padding_right="" padding_bottom="" padding_left="" gradient_start_color="" gradient_end_color="" gradient_start_position="0″ gradient_end_position="100″ gradient_type="linear" radial_direction="center center" linear_angle="180″ background_color="" background_image="" background_position="center center" background_repeat="no-repeat" fade="no" background_parallax="none" enable_mobile="no" parallax_speed="0.3″ background_blend_mode="none" video_mp4="" video_webm="" video_ogv="" video_url="" video_aspect_ratio="16:9″ video_loop="yes" video_mute="yes" video_preview_image="" filter_hue="0″ filter_saturation="100″ filter_brightness="100″ filter_contrast="100″ filter_invert="0″ filter_sepia="0″ filter_opacity="100″ filter_blur="0″ filter_hue_hover="0″ filter_saturation_hover="100″ filter_brightness_hover="100″ filter_contrast_hover="100″ filter_invert_hover="0″ filter_sepia_hover="0″ filter_opacity_hover="100″ filter_blur_hover="0″ admin_toggled="yes"][fusion_builder_row][fusion_builder_column type="1_1″ layout="1_1″ spacing="" center_content="no" link="" target="_self" min_height="" hide_on_mobile="small-visibility,medium-visibility,large-visibility" class="" id="" hover_type="none" border_size="0″ border_color="" border_style="solid" border_position="all" border_radius="" box_shadow="no" dimension_box_shadow="" box_shadow_blur="0″ box_shadow_spread="0″ box_shadow_color="" box_shadow_style="" padding_top="" padding_right="" padding_bottom="" padding_left="" margin_top="" margin_bottom="" background_type="single" gradient_start_color="" gradient_end_color="" gradient_start_position="0″ gradient_end_position="100″ gradient_type="linear" radial_direction="center center" linear_angle="180″ background_color="" background_image="" background_image_id="" background_position="left top" background_repeat="no-repeat" background_blend_mode="none" animation_type="" animation_direction="left" animation_speed="0.3″ animation_offset="" filter_type="regular" filter_hue="0″ filter_saturation="100″ filter_brightness="100″ filter_contrast="100″ filter_invert="0″ filter_sepia="0″ filter_opacity="100″ filter_blur="0″ filter_hue_hover="0″ filter_saturation_hover="100″ filter_brightness_hover="100″ filter_contrast_hover="100″ filter_invert_hover="0″ filter_sepia_hover="0″ filter_opacity_hover="100″ filter_blur_hover="0″ last="no"][fusion_code]PHA+U2hhcmU8L3A+CjxpbWcgc3R5bGUgPSAiZGlzcGxheTogYmxvY2s7IG1hcmdpbi1ib3R0b206IDIwcHg7IGN1cnNvcjogcG9pbnRlciIgb25jbGljayA9ICJzaGFyZVBvc3QoMSkiIGlkID0gImZhY2Vib29rLWljb24iIHNyYyA9ICJodHRwczovL3d3dy5jZW50dXJ5Yml6c29sdXRpb25zLm5ldC93cC1jb250ZW50L3VwbG9hZHMvMjAyMC8xMC9JbWFnZS02LnBuZyIgd2lkdGggPSAiNDBweCIvPgo8aW1nIHN0eWxlID0gImRpc3BsYXk6IGJsb2NrOyBtYXJnaW4tYm90dG9tOiAyMHB4OyBjdXJzb3I6IHBvaW50ZXIiIG9uY2xpY2sgPSAic2hhcmVQb3N0KDIpIiBpZCA9ICJ0d2l0dGVyLWljb24iIHNyYyA9ICJodHRwczovL3d3dy5jZW50dXJ5Yml6c29sdXRpb25zLm5ldC93cC1jb250ZW50L3VwbG9hZHMvMjAyMC8xMC9NYXNrLUdyb3VwLTUucG5nIiB3aWR0aCA9ICI0MHB4Ii8+CjxpbWcgc3R5bGUgPSAiZGlzcGxheTogYmxvY2s7IGN1cnNvcjogcG9pbnRlciIgb25jbGljayA9ICJzaGFyZVBvc3QoMykiIGlkID0gImxpbmtlZGluLWljb24iIHNyYyA9ICJodHRwczovL3d3dy5jZW50dXJ5Yml6c29sdXRpb25zLm5ldC93cC1jb250ZW50L3VwbG9hZHMvMjAyMC8xMC9NYXNrLUdyb3VwLTYucG5nIiB3aWR0aCA9ICI0MHB4Ii8+Cgo8c2NyaXB0Pgpjb25zdCB1cmwgPSB3aW5kb3cubG9jYXRpb24uaHJlZjsKZnVuY3Rpb24gc2hhcmVQb3N0KHNpdGUpIHsKICBpZiAoc2l0ZSA9PT0gMSkgewogICAgd2luZG93Lm9wZW4oImh0dHBzOi8vd3d3LmZhY2Vib29rLmNvbS9zaGFyZXIucGhwP3U9IiArIGVuY29kZVVSSUNvbXBvbmVudCh1cmwpKTsKICB9CiAgaWYgKHNpdGUgPT09IDIpIHsKICAgIHdpbmRvdy5vcGVuKCJodHRwczovL3R3aXR0ZXIuY29tL2ludGVudC90d2VldD90ZXh0PSZ1cmw9IiArIGVuY29kZVVSSUNvbXBvbmVudCh1cmwpKTsKICB9CiAgaWYgKHNpdGUgPT09IDMpIHsKICAgIHdpbmRvdy5vcGVuKCJodHRwczovL3d3dy5saW5rZWRpbi5jb20vc2hhcmluZy9zaGFyZS1vZmZzaXRlLz91cmw9IiArIGVuY29kZVVSSUNvbXBvbmVudCh1cmwpKTsKICB9Cn0KPC9zY3JpcHQ+[/fusion_code][/fusion_builder_column][/fusion_builder_row][/fusion_builder_container]