[fusion_builder_container hundred_percent="no" equal_height_columns="no" hide_on_mobile="small-visibility,medium-visibility,large-visibility" background_position="center center" background_repeat="no-repeat" fade="no" background_parallax="none" parallax_speed="0.3″ video_aspect_ratio="16:9″ video_loop="yes" video_mute="yes" border_style="solid"][fusion_builder_row][fusion_builder_column type="1_1″ layout="1_1″ background_position="left top" background_color="" border_size="" border_color="" border_style="solid" border_position="all" spacing="yes" background_image="" background_repeat="no-repeat" padding="" margin_top="0px" margin_bottom="0px" class="" id="" animation_type="" animation_speed="0.3″ animation_direction="left" hide_on_mobile="small-visibility,medium-visibility,large-visibility" center_content="no" last="no" min_height="" hover_type="none" link=""][fusion_text]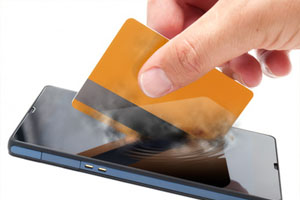 Mobile wallet technologies have been big talkers on this blog for a while (here, and here, and here…), at least partially because we think they're going to change the whole payment landscape in the near future. Google Wallet, PayPal and others have allowed more tech-savvy users the chance to pay without a physical credit card for years, but the real revolution started when Apple launched its Apple Pay service in October 2014.
Unsurprisingly, the Apple Pay launch lit a fire under other software and hardware makers, and rumors have been circulating about improvements, new features and new products from Android developers and phone makers. While most are still in development, Samsung has announced that its Galaxy S6 and S6 Edge phones will be the first to support Samsung Pay, the first direct competitor to Apple's payment solution.
How does it compare to Apple Pay?
On the surface, there's a lot in common between Apple Pay on the iPhone 6 (and 6+, and Apple Watch), and Samsung Pay on the Galaxy S6 (and S6 edge). When you want to make a contactless payment, you hold your phone near the payment terminal, choose your card (or use the default), let the device read your fingerprint for authorization, and you're good to go. It usually takes less time and fewer button presses than swiping a card, it's considerably more secure, and it almost feels like magic.
Under the hood, there's a lot in common too. Both systems are proprietary and work only with approved hardware and software. Both utilize tokenization for added security, and both include on-board secure elements which make it nearly impossible to get credit card data out of the hardware.
What sets them apart?
For all their similarities, Samsung Pay isn't just an Apple Pay clone. The biggest defining difference goes back to Samsung's acquisition of mobile-payments technology startup LoopPay in February 2015. LoopPay invented magnetic secure transmission (MST), a technology that mimics a physical credit card swipe. LoopPay users can "trick" a standard credit card terminal into thinking a card has been swiped, just by holding a LoopPay device near a traditional magnetic swipe terminal.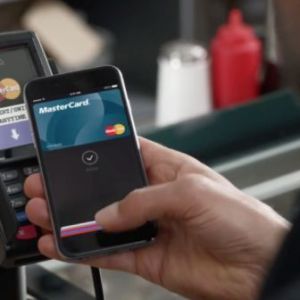 Samsung has integrated this feature into its new Galaxy S6 phones, and it represents a major advantage over Apple Pay, as well as other contactless payment technologies. When a user makes a payment with Samsung Pay, the phone will first attempt to make the payment via NFC (near field communication, the same technology Apple Pay and Google Wallet use). If that's not available, however, the phone will then use MST, and mimic a physical swipe to complete the payment.
That's huge, and a game changer, at least for now. This means that while Apple Pay is available at thousands of locations that have NFC readers, Samsung Pay will work with any credit card terminal, anywhere. No more wondering if a retailer takes your mobile wallet technology, and no more worries about retailers opting out – if you can swipe your card, you can use your Galaxy S6 to pay.
"At least for now".
You may notice I qualified my statement above. While I don't have any inside information about Apple integrating its own magnetic technology, I do know about the October 2015 deadline in the United States for EMV compliance. Starting then, all retailers that take credit cards in person have to take EMV (chip and signature) payments, or face added liability in case of fraud.
What this means for you is that retailers are replacing their terminals, and the new terminals that support EMV very often also support NFC, and therefore contactless payments like Apple Pay. So while magnetic payments from your phone are great and revolutionary today, they might not be so interesting next year, once most retailers have made the switch.
Who wins?
Articles like this always seem to end with a direct comparison and "winner" between the technologies. Luckily for us, the winner here is consumers – you and me. Having another major player in the mobile payments space means increased competition. And because mobile wallets work with any NFC-enabled terminal, more retailers deciding to accept mobile payments means more choices for users of Apple Pay, Samsung Pay, Google Wallet, and anyone else who comes along. Regardless of the technology you choose to use, making mobile payments is going to get even easier very soon.
[/fusion_text][/fusion_builder_column][/fusion_builder_row][/fusion_builder_container]