How does an online payment gateway work?
If you're not familiar with online payments, then payment gateways may be a complete mystery. What are they? How are they used? And how do they work?
If you want to accept online payments, then it's important to have a basic understanding of payment gateways. Once you understand how payment gateways work and what they do, then you have a better foundation for choosing one that works best for your business and supports your business goals.
What is a payment gateway?
A payment gateway is browser-based software that allows merchants to accept mobile or online credit card payments. Without a payment gateway, merchants can't accept online payments.
Payment gateways can be provided by a merchant's processor or by a third-party, independent gateway service. To access their payment gateway, merchants log in to their account through a web page. From here, merchants can view and manage their transactions with features like fraud prevention modules, reporting, refunds and voids, batch history, and more.
How does an online payment gateway work?
Payment gateways are the unsung heroes that fuel online credit card transactions. They operate on the back end of transactions, unseen but vital to the process.
Every credit card transaction involves the activity of many different entities—including the cardholder, the merchant, the processor, the card brand, and more. Information has to travel between all of these different entities in order for a credit card transaction to go through. For example, the credit card network has to communicate with the cardholder's bank (the issuing bank) to make sure the cardholder has enough funds for the transaction. And that's only one of the dozens of exchanges that occur with every transaction. All of this communication happens within just a few seconds—but how?
Payment gateways are the messengers that facilitate this flurry of communication. A cardholder inputs their credit card information (through a website or mobile app), and then the payment gateway whisks this information off to all of the concerned parties. Once these parties have exchanged all the necessary information, the payment gateway gathers the results and reports back to the cardholder, letting them know if the transaction was authorized or not—that is, if it was successful or not.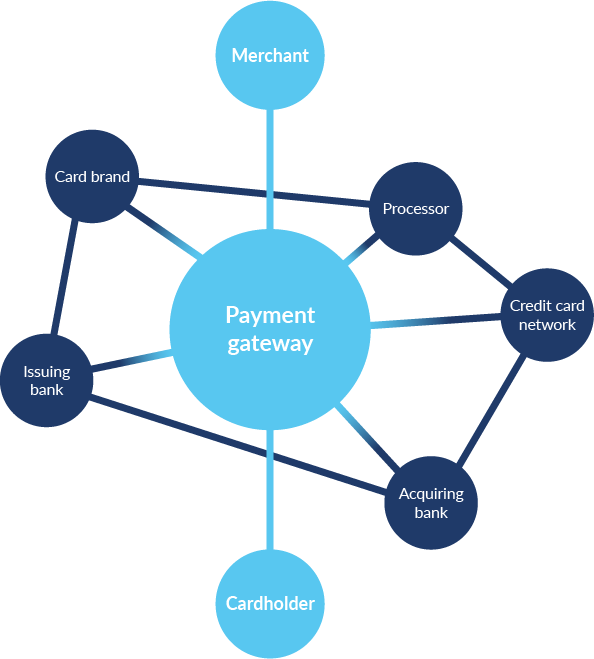 On the merchant's end, the payment gateway is where their daily batch sits. At the start of each day, a new batch is opened, and every transaction that occurs that day is put in that batch. Once business has closed for the night, the merchant can go back in to their payment gateway to settle their batch and get paid for their sales.
Because payment gateways send sensitive information across the internet, they must be secure. High-quality payment gateways are PCI compliant and use encryption, tokenization, and TLS 1.2 to protect credit card information as it travels across the web. Without these protections, the cardholder's data is at risk—and if fraud or a data breach occurred, the merchant would be on the hook for any losses. To avoid these costs, merchants should choose payment gateways that use rigorous data security methods to protect customer data.
Accounting integrations
In addition to facilitating online payments, payment gateways can also integrate with accounting software, allowing merchants to accept payments directly in their software and automate their payment processing.
Connecting your accounting software with your payment gateway means no more manual reconciliation, double data entry, switching back and forth between programs, or human errors. The integration automatically posts payments to your accounts receivable and general ledger, streamlining your workflow and freeing you to focus on what truly matters—your core business.
Conclusion
An online payment gateway is essential for any business that wants to accept online or mobile payments. But if you don't know how it works or its purpose, then choosing a gateway can be downright daunting.
So, how does an online payment gateway work? Now you know that it's the crucial messenger in every credit card transaction, facilitating the exchange of information and authorizing each charge.