[fusion_builder_container hundred_percent="no" hundred_percent_height="no" hundred_percent_height_scroll="no" hundred_percent_height_center_content="yes" equal_height_columns="no" menu_anchor="" hide_on_mobile="small-visibility,medium-visibility,large-visibility" class="" id="" background_color="" background_image="" background_position="center center" background_repeat="no-repeat" fade="no" background_parallax="none" enable_mobile="no" parallax_speed="0.3″ video_mp4="" video_webm="" video_ogv="" video_url="" video_aspect_ratio="16:9″ video_loop="yes" video_mute="yes" video_preview_image="" border_size="" border_color="" border_style="solid" margin_top="" margin_bottom="" padding_top="" padding_right="" padding_bottom="" padding_left=""][fusion_builder_row][fusion_builder_column type="1_1″ layout="1_1″ spacing="" center_content="no" link="" target="_self" min_height="" hide_on_mobile="small-visibility,medium-visibility,large-visibility" class="" id="" background_color="" background_image="" background_position="left top" background_repeat="no-repeat" hover_type="none" border_size="0″ border_color="" border_style="solid" border_position="all" padding="" dimension_margin="" animation_type="" animation_direction="left" animation_speed="0.3″ animation_offset="" last="no"][fusion_text]
Before starting a small business, you may have wondered, "How much are credit card fees for merchants?"
Then you began processing payments and found yourself confused by unclear rates and fees.
There's a lot that goes into the credit card fees you pay. If you don't fully understand credit card fees, you could be getting overcharged without even knowing it.
That's why it's important to understand how credit card fees work and how you can get the most affordable processing fees for your business.
[/fusion_text][fusion_text]
Why do merchants have to pay credit card fees?
[/fusion_text][fusion_text]
Every credit card transaction requires the participation of several different entities. Each of these entities, including the issuing bank (such as Chase or Wells Fargo), the credit card issuer (such as Visa or MasterCard), the merchant bank, and the payment processor, receive a fee for their services.
When you process a transaction, there are several fees you'll pay, including:
Interchange fees: The credit card issuer (such as Visa, MasterCard, Discover, or American Express) gets paid by taking a percentage of each sale, called the interchange fee. Interchange is a percentage of the total volume of a transaction plus a small, per-transaction fee. The interchange fee varies depending on several factors, including the merchant's industry, sale amount, and the type of card used. For example, a corporate credit card and a rewards card have different interchange fees. Interchange fees are non-negotiable, since these are what payment processors must pay to credit card issuers to process your transactions.

Assessment fees: The credit card network (such as First Data) charges assessment fees. Like interchange fees, assessment fees can also vary based on the merchant's industry, sale amount, and the type of card used. However, they're based on total monthly sales volume instead of individual transactions and are usually lower than interchange fees. Assessment fees are set by an outside party—the credit card network—so they can't be negotiated.
Discount rate: The discount rate consists of dues, fees, and assessments that businesses must pay for accepting credit cards. Interchange fees make up the largest part of the discount rate.
Payment processor fees: The payment processor makes money by charging a fee every time you process a transaction. These fees vary by processor, and can be affected by factors such as sales volume and the type of business.
Setup and monthly fees: Many payment processors charge setup and maintenance fees to cover business expenses like support and security. Some will even add early termination fees that lock you into a contract.
[/fusion_text][fusion_text]
How much are credit card fees for merchants?
[/fusion_text][fusion_text]
The cost of credit card fees largely depends on the pricing structure of the payment processor. Certain pricing structures provide the lowest processing costs, while others are much less cost-effective. Fees are also affected by the merchant's industry, how a business processes credit cards, and what types of cards are being used. There are three main pricing structures: interchange plus, flat rate, and tiered pricing.
Interchange plus pricing is the most transparent pricing model. With interchange plus, you pay a flexible percentage for your credit card processing. This variable percentage is determined based on the type of credit card processed and how it was processed (meaning that your percentage may be different for every transaction). Interchange plus is the cheapest pricing model for credit card processing because you're sure to get the lowest price for every card processed.
Flat rate pricing is the easiest pricing structure to understand. You simply pay the payment processor a flat fee for all credit and debit card transactions. Unlike interchange plus pricing, flat rate pricing doesn't change month to month. However, flat rate pricing isn't always the cheapest option. To negotiate a lower flat rate, take a look at your last three credit card statements. Find your average processing fee and then use this number to angle for a lower fee. If you can get a rate that's lower than your historical average, then you know you'll save money each month.
Tiered pricing buckets interchange rates into three categories: qualified, mid-qualified, and non-qualified. This system gives each credit card a predetermined price based on its category. However, tiered pricing is the most expensive pricing structure and can be very difficult to understand when you get your monthly statement. It also allows payment processors to hide their profits and take advantage of merchants. To get the lowest credit card fees, stay away from tiered pricing. Instead, choose an interchange plus or flat rate pricing structure.
[/fusion_text][fusion_text]
How to lower your credit card fees
[/fusion_text][fusion_text]
The way you process credit cards can affect your credit card fees. When a credit card transaction occurs, the interchange rate is determined by the type of card and how it was processed.
However, certain frowned-upon processing practices can cause your transactions to be classified in a higher interchange bracket. The riskier a transaction seems, the higher its interchange rate. This is called a downgrade.
Too many downgrades will raise your monthly processing bill. The problem is that many merchants don't know what downgrades are or how to avoid them.
Here are four simple ways to avoid downgrades and lower your fees:
Preauthorize and capture for the same amount
If the preauthorization amount is different from the capture amount, the transaction may appear to be fraudulent. Make sure the amounts are the same to lower your risk and lower your interchange fees.
Batch out every day
Close your batch every day (either manually or automatically) to avoid stale authorizations. Stale authorizations occur when too much time passes between authorization and settlement. In most cases, the time limit is 24 hours, so it's best to batch out at the end of the night.
Use a PCI-compliant payment gateway
A PCI-compliant payment gateway, such as EBizCharge, helps lower your credit card fees by automatically sending line-item details and invoice information already stored in your system to the point of sale. These details are used to qualify your credit cards, including business and government cards, at the lowest possible interchange rates.
Integrate your payments
You can also lower your credit card fees by using integrated payments. Integration software allows you to link your accounting software, CRM system, or online shopping cart to an integrated payment provider, giving you the ability to process payments directly within your existing software.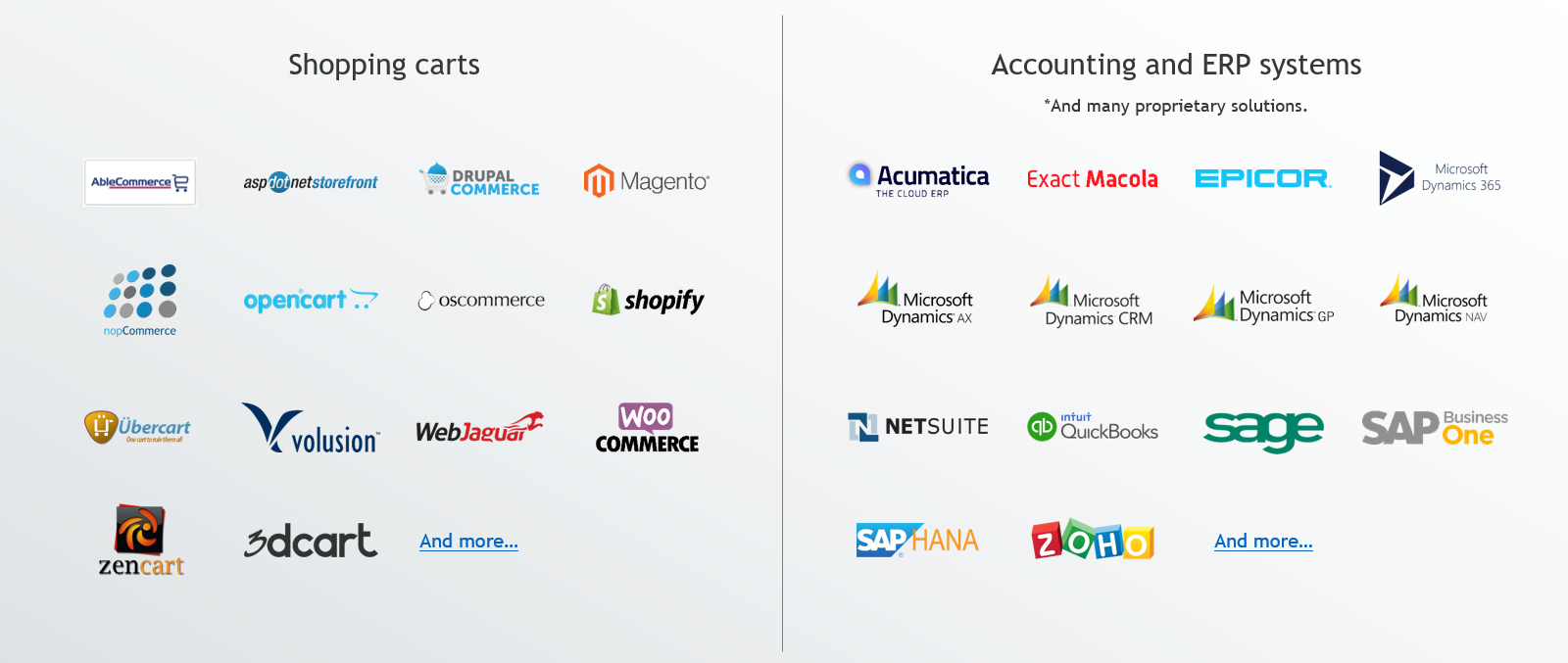 Payment integrations like EBizCharge are specifically designed to qualify business-type credit cards and government purchasing cards at lower base rates. This ability can help lower the cost of those cards and save your business money in overall credit card fees.
[/fusion_text][fusion_text]
Conclusion
[/fusion_text][fusion_text]
How much are credit card fees for merchants? While credit card fees are a necessary part of running a business, understanding how they work can greatly reduce your fees. With tools such as integrated payments and a PCI-compliant payment gateway, you can achieve the lowest credit card fees for your business.
[/fusion_text][/fusion_builder_column][/fusion_builder_row][/fusion_builder_container]