[fusion_builder_container hundred_percent="no" equal_height_columns="no" hide_on_mobile="small-visibility,medium-visibility,large-visibility" background_position="center center" background_repeat="no-repeat" fade="no" background_parallax="none" parallax_speed="0.3″ video_aspect_ratio="16:9″ video_loop="yes" video_mute="yes" overlay_opacity="0.5″ border_style="solid"][fusion_builder_row][fusion_builder_column type="1_1″ layout="1_1″ background_position="left top" background_color="" border_size="" border_color="" border_style="solid" border_position="all" spacing="yes" background_image="" background_repeat="no-repeat" padding="" margin_top="0px" margin_bottom="0px" class="" id="" animation_type="" animation_speed="0.3″ animation_direction="left" hide_on_mobile="small-visibility,medium-visibility,large-visibility" center_content="no" last="no" min_height="" hover_type="none" link=""][fusion_text]
A mobile solution for your business on the go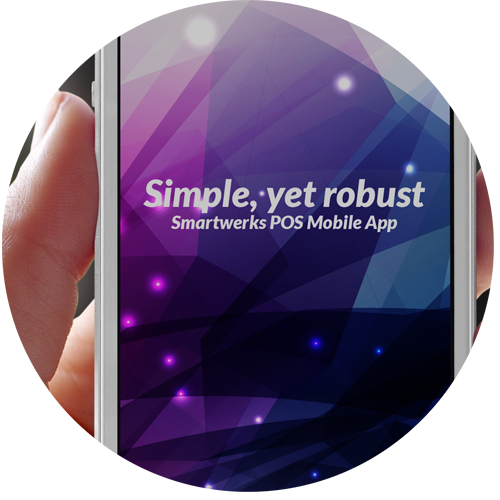 Century Business Solutions has partnered with Smartwerks to deliver a singular solution to small business' mobile payment needs: the Smartwerks POS mobile app. Using the Smartwerks POS mobile payment app, businesses can sell products to customers, keep track of inventory, and accept payment—all from an Android or Apple device, or from a tablet with internet access.
Simple, yet robust: Smartwerks POS Mobile App
The real strength of the Smartwerks POS mobile app is its functionality—after programming your inventory with pricing, you need only do a few simple things to complete a transaction:
Log into the Smartwerks POS mobile app with your Android or Apple device, or with your internet-connected tablet.

Add items to your invoice by selecting them from a picture list or entering SKUs

Select a customer's method of payment and click to apply payment to the invoice

Give a physical or emailed receipt to the customer
With such a simple process, entire transactions can take less than a minute. The Smartwerks POS mobile app keeps track of inventory and balances payments—whether by cash, card, gift certificate, or check—with your general ledger and marks invoices as paid automatically.
Exclusive features to boot
Aside from its ease of use, the Smartwerks POS mobile app packs exclusive features to help further streamline your business procedures, such as:
Inventory buttons that can be configured to display top-selling items first

An option for customer profiles to manage repeat orders even more easily

The ability to accept credit card payments directly through the app

A choice between a physical or emailed receipt

The option to split payment types if necessary
With all its abilities, the Smartwerks POS mobile app lives up to its name—it's powerful enough to accept and track payments, inventory, and customers, yet easy enough to bundle into an app that fits into the palm of your hand. See why it really is a smart choice, and start accepting payments with your own Smartwerks POS mobile app today.
[/fusion_text][/fusion_builder_column][/fusion_builder_row][/fusion_builder_container]